Identity Access Management is more secure with YubiKey
Identity Access Management (IAM) solutions ensure that the right users have access to the applications and data they need. Combining IAM with Yubico's range of YubiKey security keys provides a strength-in-depth approach to authentication that is 100% phishing-resistant, builds trust, and dramatically cuts support costs.
Integrating YubiKey with IAM solutions delivers the most secure level of authentication for all users
Organizations looking to enhance their security posture can integrate their Identity Access Management platform with a YubiKey to provide hardware-based multi-factor authentication to all their users. This will not only provide the highest level of protection against phishing, but it will also ensure strong authentication of every user on the path to a Zero Trust model. Combining a YubiKey with IAM solutions such as Duo, Okta Adaptive MFA and PingID will allow for a consistent, secure and controlled authentication flow for critical applications and services across desktop and mobile. Security admins can use YubiKeys as a primary, back-up or step-up authentication factor, fully integrated into their security policies, all while allowing users to self-enroll their security keys in minutes. YubiEnterprise Delivery Services will even send the security keys to a user's residence or workplace, anywhere in the world.
---
Yubico's IAM partners—stronger together
---
Smarter together
As part of our commitment to stronger authentication, Yubico works with its IAM partners such as Okta, Duo Security and Ping Identity to produce a range of educational webinars, case studies and materials. See below for recent highlights and more in our Resources section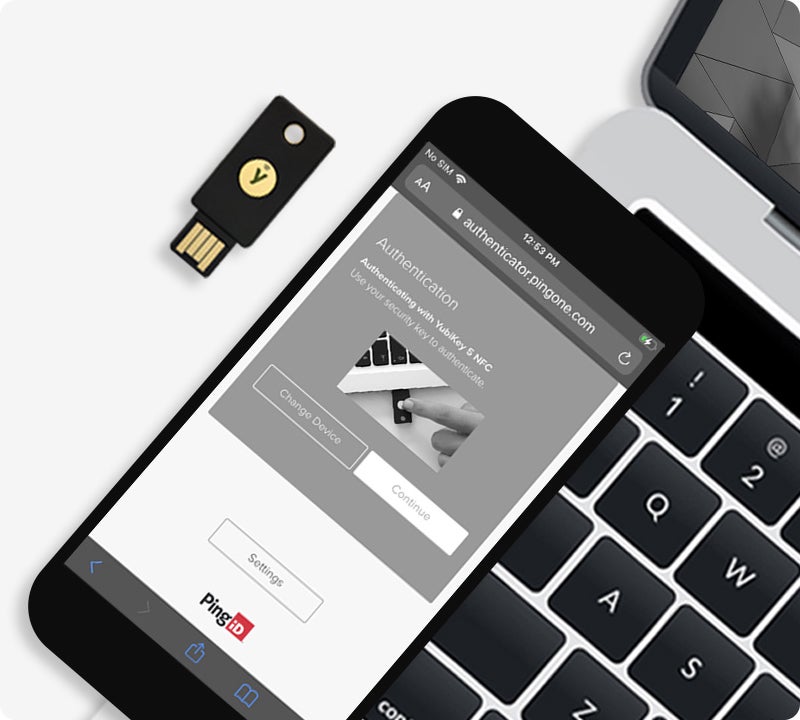 Ping Identity and Yubico – Considerations for a Zero Trust Security Model
Join us to learn about:
How 80% of organizations are committed to implementing a zero-trust security model by 2022 (Gartner)
Considerations to begin a Zero Trust journey in your organization
How Ping Identity and Yubico work with partners to implement Zero Trust
Okta and Yubico—The Path to Passwordless
Join us to learn about:
The shortcomings of current authentication methods
WebAuthn background and its benefits
How to achieve strong, user-friendly authentication and move towards passwordless logins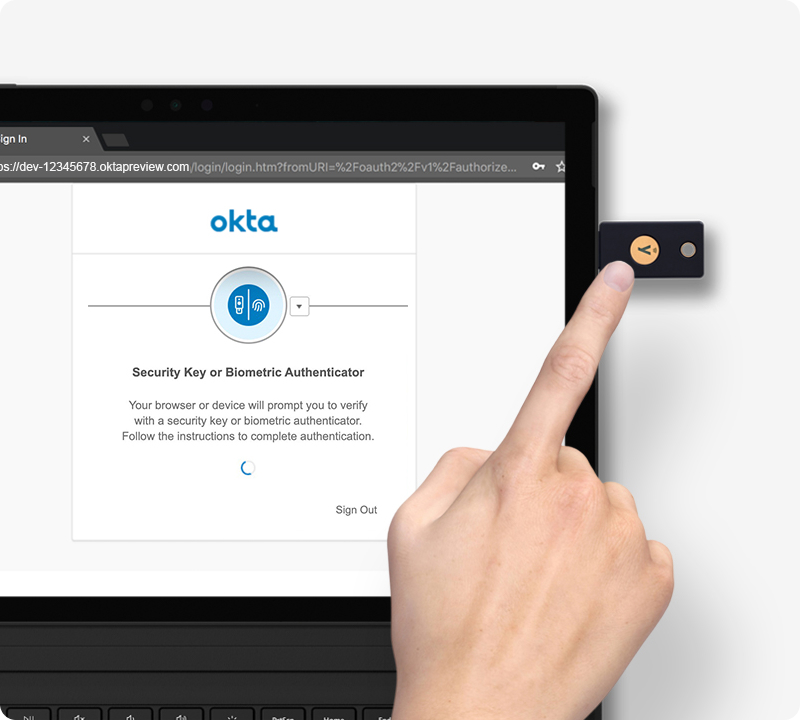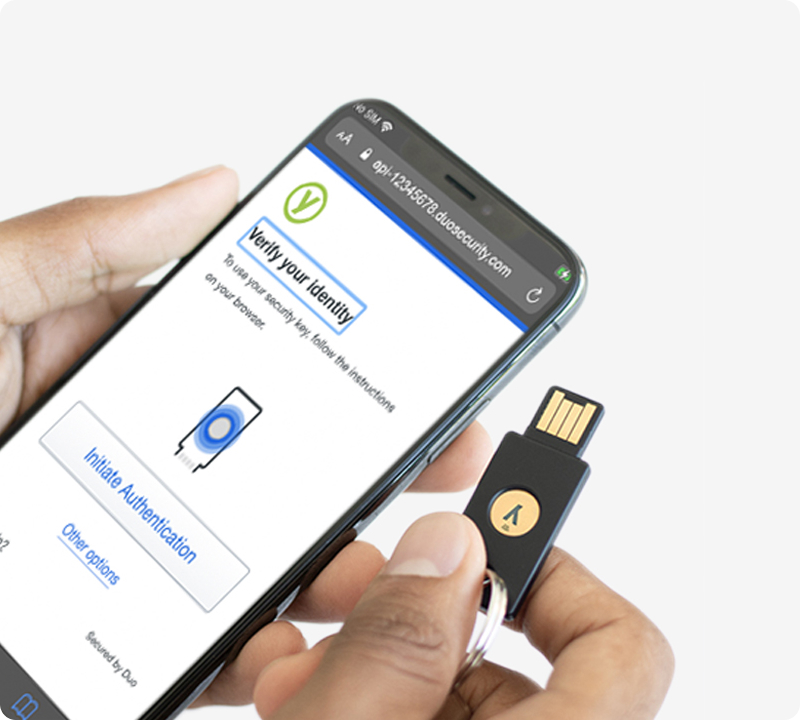 Duo Security and Yubico—Joint customer meeting PCI-DSS compliance standards
Read this case study about delivering a PCI-compliant environment:
Retail Control Systems (RCS) supports retailers and restaurants
It uses Duo and YubiKeys to implement strong authentication that's PCI-DSS compliant
Convenient and secure MFA managed across 2500+ identities, powering over 11,000 authentications every day
Want to know what IAM platforms work with YubiKeys? No problem!
Get started with YubiKeys

Buyer's guide
New to YubiKeys? Check out our range of security keys.

Delivery service
Security keys delivered to your door?

Subscription
Looking for security hardware but as a service? YubiEnterprise Subscription is for you.
---
Risk reduction, business growth, and efficiency enabled by YubiKeys
A recent Forrester Consulting Total Economic Impact™ (TEI) study commissioned by Yubico found that a composite organization representative of interviewed customers who use YubiKeys reduced risk of successful phishing and credential theft attacks by 99.9%, saw a drop in password-related helpdesk tickets by 75%, and experienced a 203% 3-year ROI with YubiKeys.

BUT…. all organizations are different. Enter your own company data to create a custom Dynamic TEI study and instantly see how Yubico's solutions can help your organization!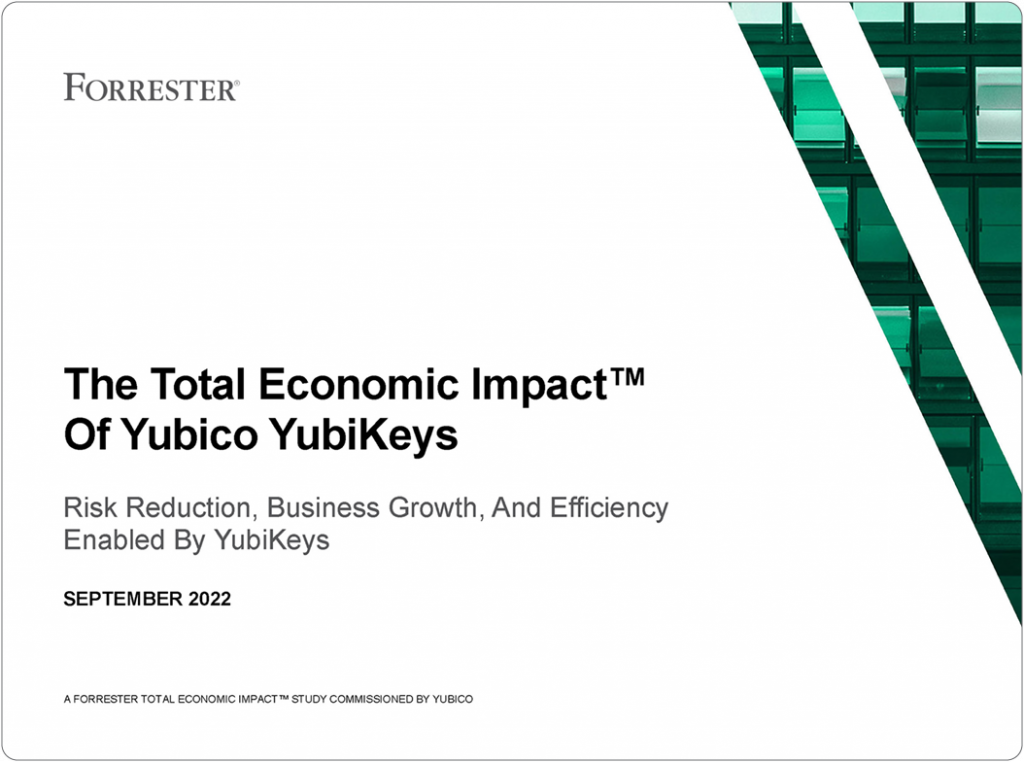 ---
YubiEnterprise Subscription: peace of mind and flexibility for less than a cup of coffee per user/month
YubiEnterprise Subscription simplifies purchase and support while also providing financial benefits. Estimate your potential savings as compared to one-time perpetual purchasing model
---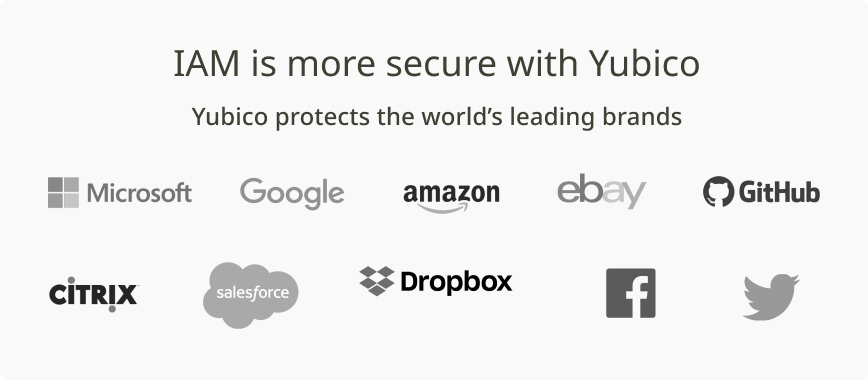 Ready to take the next step?
Try it yourself
Try out your IAM with a YubiKey experience pack
Get started
Contact our sales team for more details