YubiKey for Telecommunications
Modern security to bolster existing security approaches
Reliable, phishing-proof layer of protection
The telecommunication industry is increasingly becoming a target for cyberattacks due to the critical services it provides. Strong multi-factor authentication (MFA) is needed to secure access to critical systems and data, however not all MFA is created equal.
The YubiKey provides a phishing-proof layer of protection to safeguard people, technology, and data while ensuring the best security and user experience. With a wide range of business scenarios covered, the YubiKey drives 100% MFA coverage and protects against phishing and account takeover related cyber threats.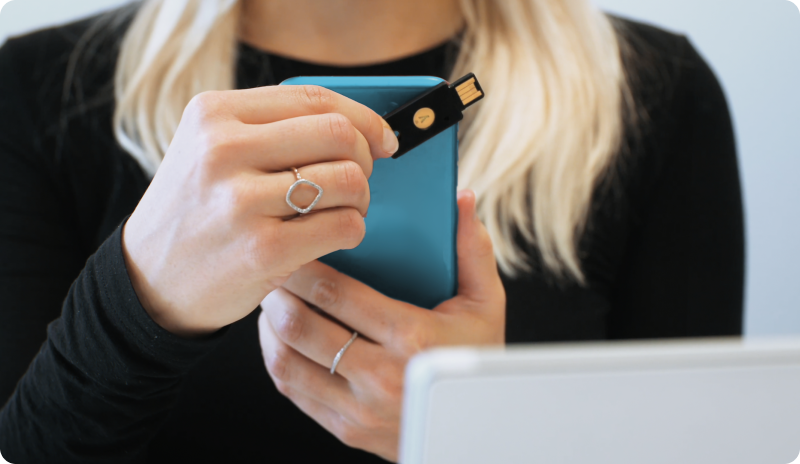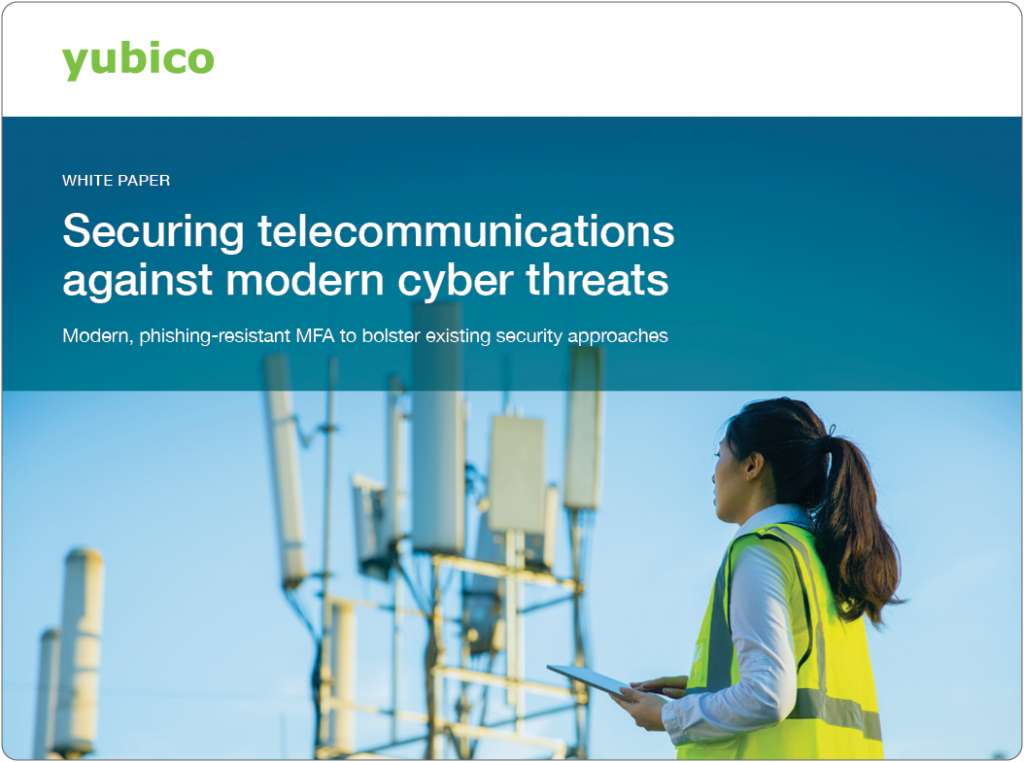 Read the white paper
Read the white paper to learn how phishing-resistant MFA protects telecommunication organizations from modern cyber threats.
---
Webinar: The role of modern authentication
In honor of Earth Day, join Yubico and our esteemed panelists from Solvatten and Grist to discuss the incredible work that they are doing for society, along with how technology and cybersecurity enables them to act out their mission.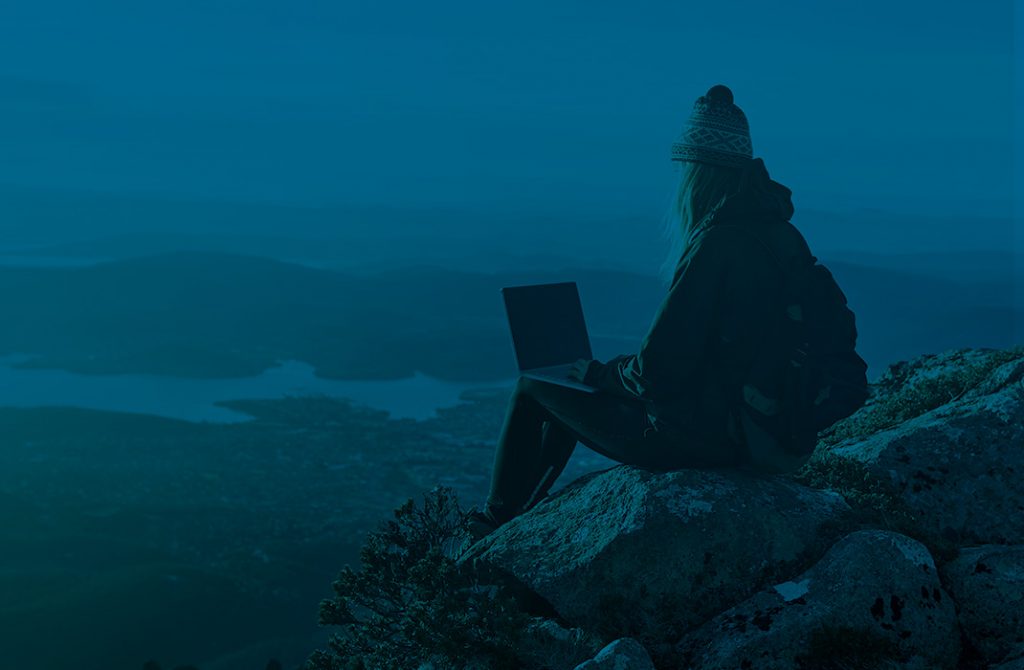 ---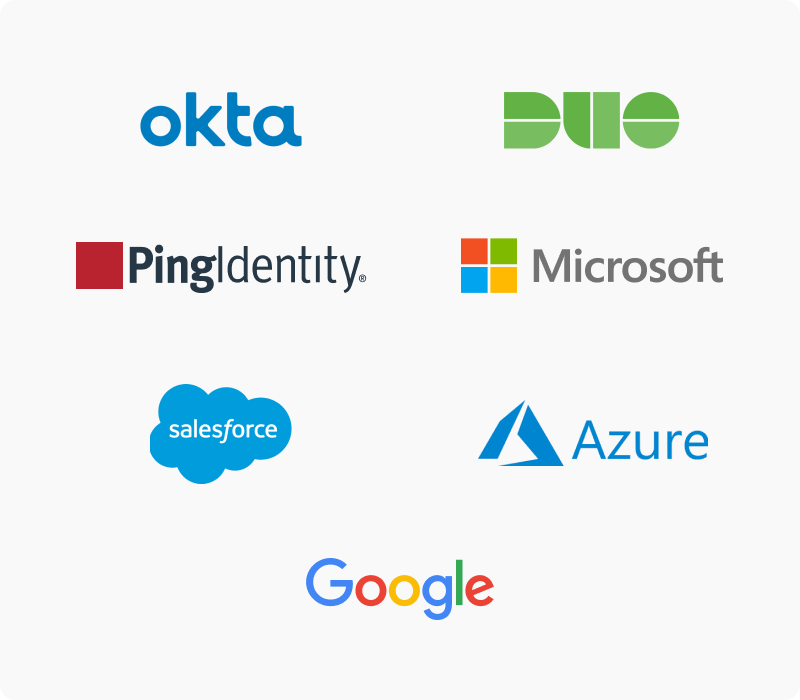 Secure access to critical systems and data for your broad user base
Stolen credentials are the leading cause of account takeovers and data breaches, and this industry in particular, has a high rate of password reuse across multiple accounts. Which is why strengthening security for all your user accounts, user access to critical systems, applications, and both employee and customer Personal Identifiable Information (PII) without interrupting productivity is crucial to staying protected from modern cyber threats.

YubiKeys ensure that only authorized people have access to PII data and critical systems. They integrate seamlessly with existing IAM solutions such as Microsoft, Okta, Duo, and Ping, and provide secure authentication for hundreds of applications and services, eliminating any rip or replace of existing solutions. Users get protected in minutes right out-of-the-box.
---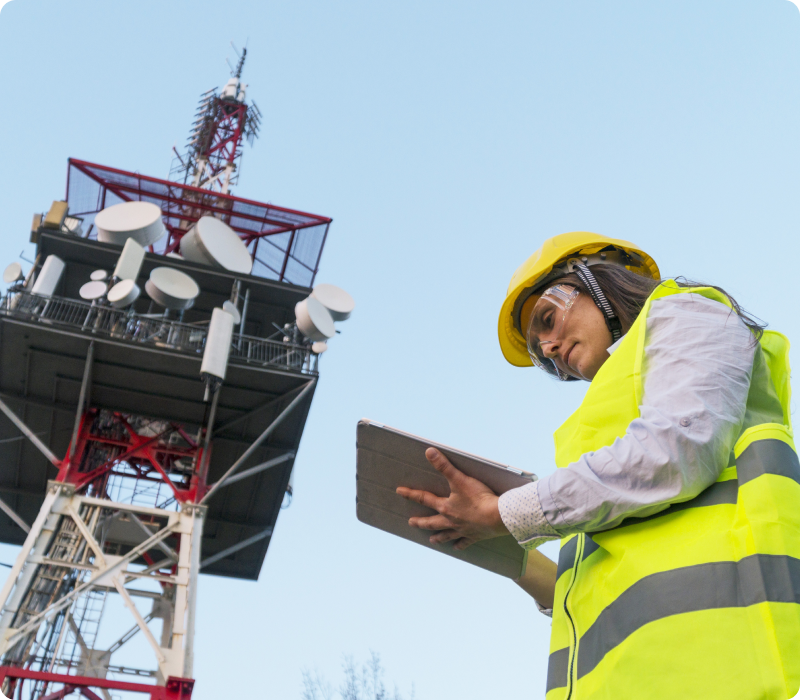 Always-available phishing-resistant solution for shared workstations and mobile-restricted environments
Employees whether in third-party organizations, franchisees or retail stores often share computers, kiosks, and point-of-sale (POS) systems, and YubiKeys ensure that only people who are authorized to access a specific system, application or even function will be able to. They can be uniquely associated, are extremely portable, highly durable and don't require a battery or internet connection.

Where people can't, won't, or don't use mobile phones, YubiKeys provide you with always-available phishing-resistant authentication ensuring 100% MFA coverage. Even technicians servicing remote locations will always have a form of secure MFA readily available.
---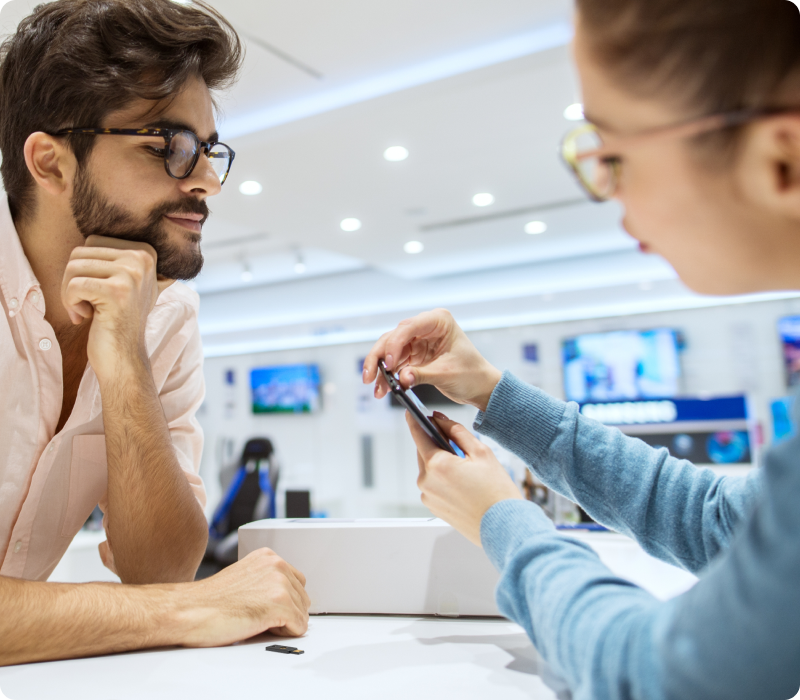 Deliver exceptional customer experience
Your employees directly reflect your brand as they engage with customers. With the YubiKey your employees provide more efficient and quality customer service by not having to look down at their phone to authenticate. Their undivided attention is on the customer.

To authenticate users simply tap or insert then touch the YubiKey and because the YubiKey arrives in a variety of form factors authenticating to the full range of modern devices is simple, regardless of manufacturer or operating system.
---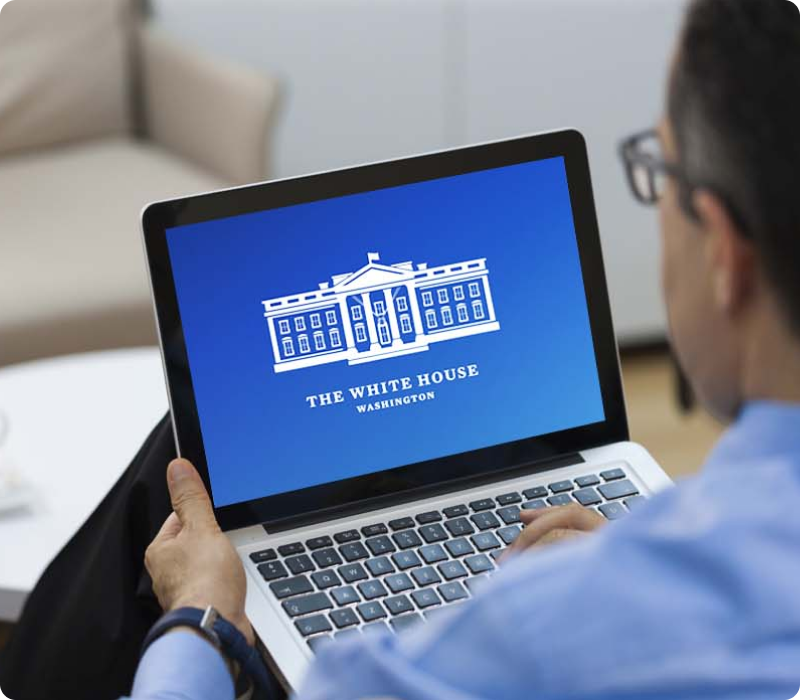 Drive compliance to industry regulations and authentication standards
Due to the growing impact and sophistication of cyberattacks, the U.S. Federal Communications Commission (FCC) proposed new rules for the telecom industry to accommodate the evolving nature of breaches including when key organizations and customers need to be notified of a breach. Phishing-resistant MFA is the need of the hour to protect against modern cyber threats.

The YubiKey meets and surpasses the Zero Trust and phishing-resistant MFA recommendations outlined in the Office of Management and Budget (OMB) Memo M-22-09 which provided actionable strategies in response to the Executive Order 14028 to strengthen cybersecurity across critical infrastructures. Bolster your cybersecurity posture with the YubiKey.
---
YubiKeys provide the gold standard for phishing-resistant MFA

YubiKeys meet you where you are today on your MFA journey by acting as a bridge to a passwordless future, allowing you to leverage existing OTP authentication as you progress all the way to modern phishing-resistant authentication using either FIDO2 or smartcard – all on one key. Embrace the YubiKey with confidence knowing that you have a solution to prevent account takeovers.
---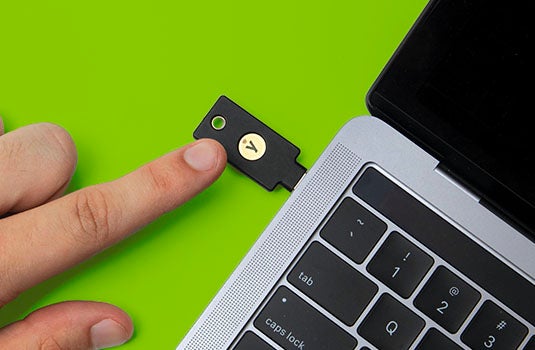 YubiKeys as a Service enable faster and wider rollouts of modern MFA in 2023
Watch this webinar to learn about how to procure YubiKeys as a Service with the new and expanded YubiEnterprise Subscription offering for greater business agility and predictability.
---
Risk reduction, business growth, and efficiency enabled by YubiKeys
A recent Forrester Consulting Total Economic Impact™ (TEI) study commissioned by Yubico found that a composite organization representative of interviewed customers who use YubiKeys reduced risk of successful phishing and credential theft attacks by 99.9%, saw a drop in password-related helpdesk tickets by 75%, and experienced a 203% 3-year ROI with YubiKeys.

BUT…. all organizations are different. Enter your own company data to create a custom Dynamic TEI study and instantly see how Yubico's solutions can help your organization!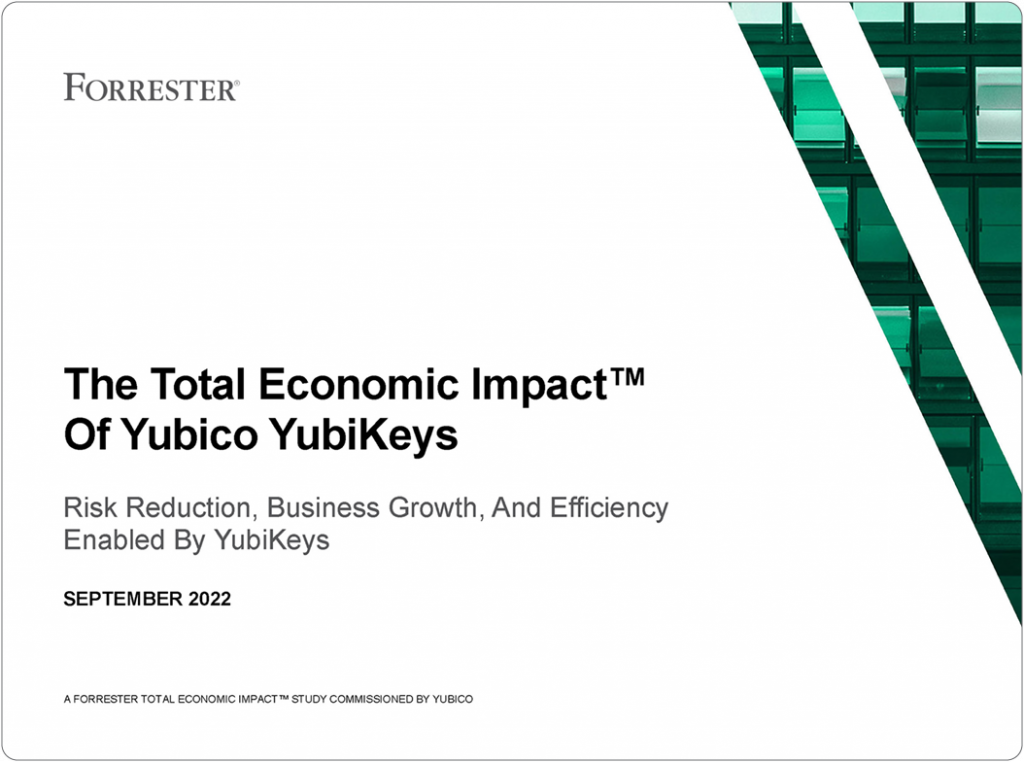 ---
YubiEnterprise Subscription: peace of mind and flexibility for less than a cup of coffee per user/month
YubiEnterprise Subscription simplifies purchase and support while also providing financial benefits. Estimate your potential savings as compared to one-time perpetual purchasing model
---

Get started

Find the right YubiKey
Contact our sales team for a personalized assessment of your company's needs.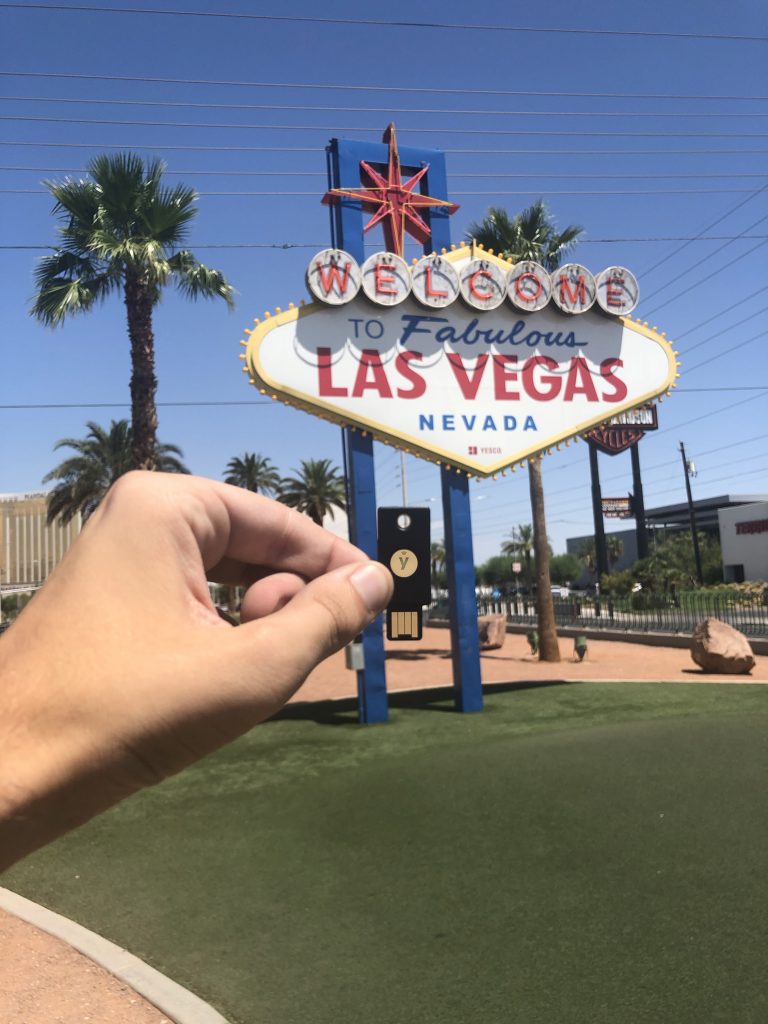 Get protected today
Browse our online store today and buy the right YubiKey for you.