HYPR | Yubico
Authenticate in seconds from anywhere, anytime, on any device.
Achieve user friendly security, together
A whopping 73% of surveyed business professionals report that authentication impacts their work satisfaction and performance.1 Achieve increased employee satisfaction and productivity by making authentication secure and simple. HYPR and Yubico provide a seamless passwordless authentication experience that meets your security needs while increasing employee satisfaction by supporting software and/or hardware bound passkeys.
With HYPR, businesses are finally able to solve the desktop multi-factor authentication (MFA) gap, eliminate customer passwords, and deliver lightning-fast login experiences their users love. Combine the YubiKey with your HYPR deployment to eliminate credential reuse, stop phishing attacks and mitigate account takeovers while accelerating employee productivity. Adopt strong phishing-resistant multi-factor passwordless authentication and experience a smooth user experience with HYPR and Yubico.
2022 EMA Research Report: The Rise of Low-Friction Account Access
HYPR | Yubico: Authenticate anytime, anywhere
"Our partnership with Yubico provides a seamless passwordless authentication experience that provides flexibility to use both software or hardware, accelerating user adoption. Our joint solution can stop account takeovers and simplify user and admin experiences."
---
Eliminate your security risk

---
Simplify and unify. The benefits are within your reach.
Your business and employees are constantly evolving, from new hires and employee turnover, to remote and hybrid work environments, and support for new infrastructure needs. And with users working across desktop, mobile, shared workstations, and using the latest devices, you need maximum flexibility when selecting modern phishing-resistant MFA and choosing the YubiKey form factors your users need based on the devices they love.

Reduce risk
Stops phishing with FIDO and smart card based MFA with a de-siloed and uncoupled solution that spans across all users, geos and use cases
FIDO (passkey) and FIPS certified authentication that aligns with regulatory requirements and security frameworks
Improve user experience
Reduces the number of login streams a user must navigate
Reduce end user confusion by unifying and centralizing authentication processes
Reduce end user friction by merging Passkey (FIDO Credentials) and smart card provisioning and login processes
Removes the human error element to reduce security fatigue and failures

Improve admin experience
Enforce dynamic authentication policies, based on user choice
Simplifies provisioning workflows, supporting more secure onboarding and off boarding

Reduce costs
One stop solution for provisioning, management and auditing
Reduces costly calls to IT for password recovery
---
The choice is yours
The HYPR Cloud Platform makes it easy to go passwordless across enterprises and agencies. Combine the security of hardware authentication with convenience and ease of cloud based SSO/IAM platforms to leverage modern authentication to secure workstation and web-based logins.
The YubiKey provides form factor choices to fit your needs. Utilize the YubiKey 5 Series, YubiKey FIPS Series, Yubico Security Key Series and YubiKey Bio Series all are compatible with True Passwordless MFA by HYPR.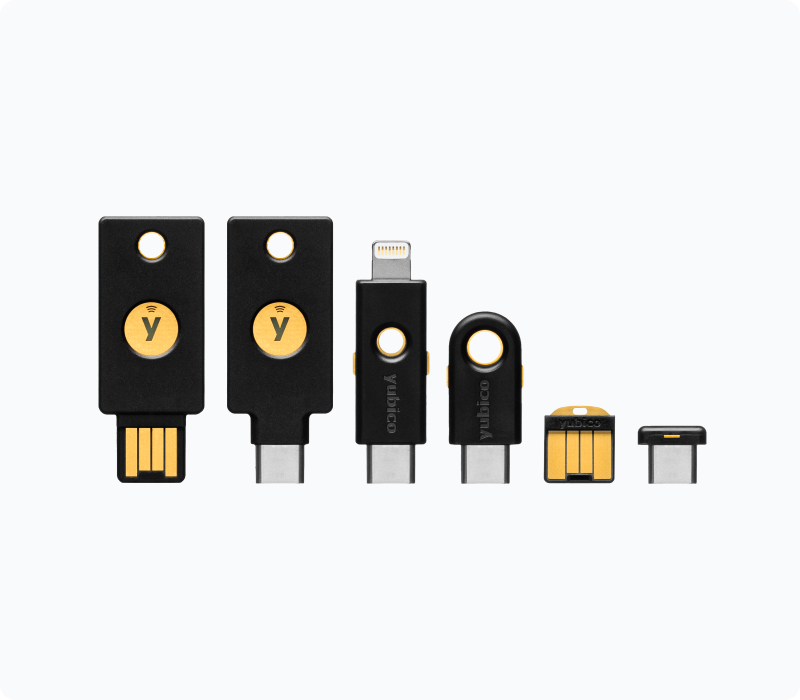 YubiKey 5 Series
Multi-protocol security key, eliminate account takeovers with strong two-factor, multi-factor and passwordless authentication, and seamless touch-to-sign. Multi-protocol support allows for strong security for legacy and modern environments. And a full range of form factors allows users to secure online accounts on all of the devices that they love, across desktops and mobile.
Multi-protocol support; FIDO2, U2F, Smart card, OTP, OpenPGP 3
USB-A, USB-C, NFC, Lightning
IP68 rated, crush resistant, no batteries required, no moving parts
Read the YubiKey 5 Series product brief >
---
For businesses with 500 users or more
For SMBs or for individuals
---
Heightened security, go passwordless, and increase productivity
Together, HYPR and Yubico provide the best security against phishing attacks and account takeovers, as well as a simplified user experience that works across industries.
---
Supports web-based authentication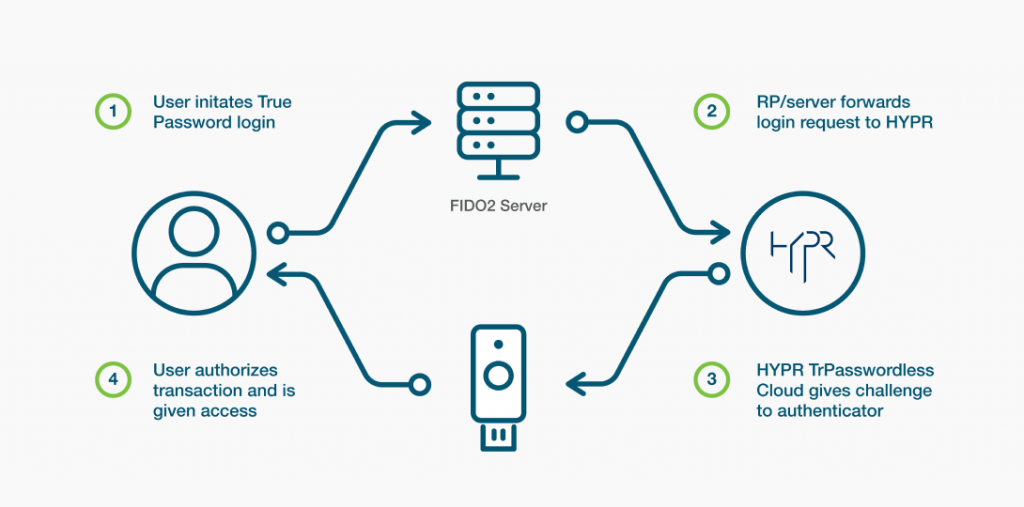 …and workstation authentication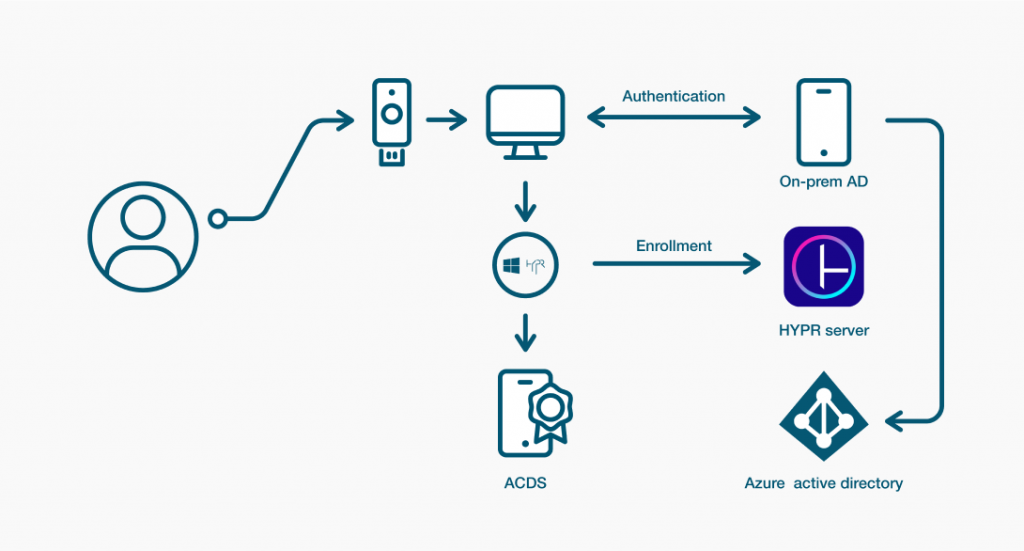 ---
Partnering with best-in-class organizations building and innovating together
Hundreds of partners, one shared goal. Yubico and our global partner ecosystem are uniquely positioned to protect every organization, customer and end-user by providing strong multi-factor authentication solutions.

---
What our customers say about us

"YubiEnterprise Subscription forces you to stay on top of the ball in terms of security and YubiEnterprise Delivery. The entire distribution process has been offloaded with turnkey delivery. It's huge for BeyondTrust that we do not have to worry about inventory, shipping, tracking or delivery."
Morey Haber – Chief Security Officer, BeyondTrust

"We saw the value of YubiEnterprise Delivery as an easy way to solve our problem of getting YubiKeys to our remote workforce during the height of the pandemic. It also solved the problem of distributing keys to our new hires as we were experiencing explosive growth."

Daniel Jacobson – Senior Director of IT, Datadog

"In the end, Afni received insurance at a 30% decrease from its previous level. When I'm going down by a third and others are going up by 20% or higher, that's a really big win," notes Deterding. "In fact, I estimate our premiums are nearly half of what others are having to pay."
Brent Deterding – CISO, Afni
---
---
Get world class authentication security
for less than a cup of coffee per user/month
Ready to take the next step?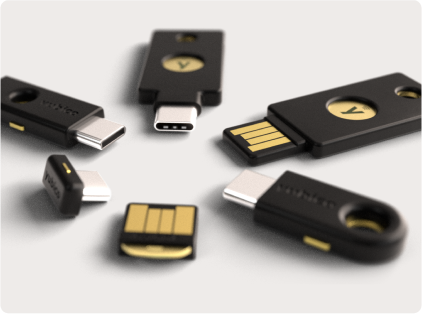 Find the right YubiKey
Find the right Yubikey
Contact our sales team for a personalized assessment of your organization's needs.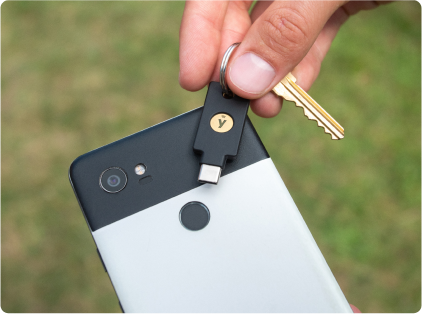 Get protected today
Browse our online store today and buy the right YubiKey for you.