Zero Trust framework
Accelerate your journey to a Zero Trust framework with purpose built, hardware authentication for modern MFA.
The Key to Trust with Zero Compromise.
YubiKey: Not all authentication is created equal
The Zero Trust framework is a journey, and implies that an organization should trust no individual or thing unless properly verified before being given access to the network and data. Strong authentication is a foundational aspect of that journey, enabling phishing-resistant user identity verification before access is provided.
---
Need to adopt a zero trust architecture and deploy MFA per the United States Executive Order on Improving the Nation's Cybersecurity? Yubico can help with strong authentication that supports zero trust initiatives.
---
---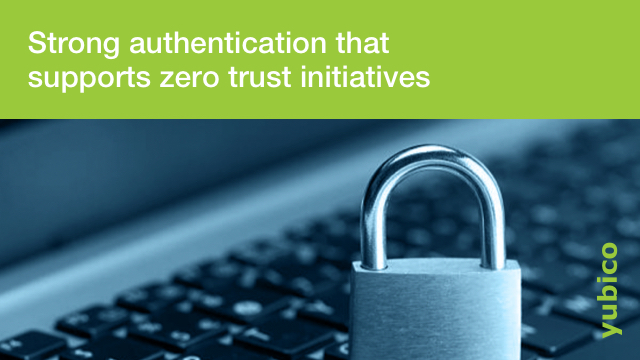 Watch the webinar
Strong authentication that supports zero trust initiatives
---
Accelerate Zero Trust with strong authentication
The Zero Trust model involves verifying the identity of every user and device attempting to access network resources, whether inside or outside the network perimeter. Adopting strong authentication as a core building block of your Zero Trust strategy will jump start you on your way to enhancing the security posture of the organization with strong identity proofing and verification. Use modern multi-factor authentication (MFA) to prevent network access with stolen passwords. Strictly enforce access controls. Learn who users are, what devices and applications they are using, and how they are connected to the network so that unusual behavior can be detected.
Trusted user identity using phishing-resistant modern MFA
Not all forms of MFA are created equal. The cost of global cybercrime is expected to be $6 trillion in 2021, an increase from $3 trillion in 2015 despite companies spending hundreds of billions of dollars to strengthen their cybersecurity postures. Most basic forms of MFA, such as SMS and mobile-based authenticators, are phishable and highly vulnerable to MiTM attacks. These methods do not achieve the strongest levels of phishing defense delivered by purpose-built hardware security keys. So if your users are using these methods to verify their identity, you may be compromising your Zero Trust promise.
Build a great user experience with passwordless that drives productivity
User adoption of new technology that heightens security and enables Zero Trust is a critical part of the equation. Deliver a highly secure solution that verifies user identity, but with a fast and easy user experience. Many organizations have successfully eliminated account takeovers with YubiKeys, with a simple touch or tap. And users can also experience secure passwordless login that reduces user friction. Phishing resistant protection in minutes with nothing for the user to download. And, once using the YubiKey if a user is tricked into giving up their personal info, the YubiKey isn't fooled. User credentials are built on strong public-key cryptography and bound to the service, offering account takeover protection by ensuring that only the real site can authenticate with a key.
---
"Having strong authentication is a foundational security component of a Zero Trust architecture. Yubico and YubiKeys help fill the gap, for example, where weak passwords have been used, by providing validated, phishing-resistant security keys."
---
Learn more about Zero Trust and Strong Authentication
Delivering strong authentication at scale
Thousands of companies and millions of end-users use YubiKey to simplify and secure logins to computers, internet services, and mobile apps. Our customers include 9 of the top 10 internet companies, 3 of the 5 leading financial and retail companies, and several of the largest governmental entities around the world.
---
YubiEnterprise Subscription: peace of mind and flexibility for less than a cup of coffee per user/month
YubiEnterprise Subscription simplifies purchase and support while also providing financial benefits. Estimate your potential savings as compared to one-time perpetual purchasing model
---
Hear what our customers are saying