Protecting financial organizations from cyber security threats
Prevent fraud and lost revenue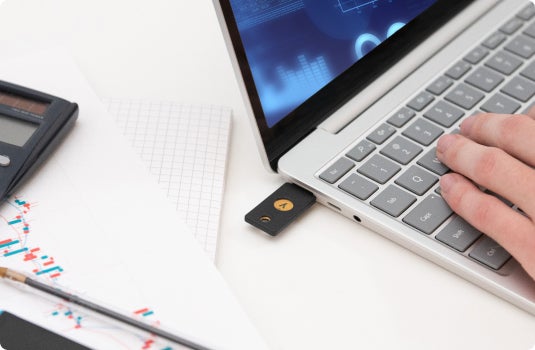 How PCI DSS 4.0 and CFPB Circular 2022-04 are re-shaping authentication across financial services
The recent PCI DSS 4.0 and Consumer Financial Protection Circular 2022-24 setting guidelines for phishing-resistant multi-factor authentication (MFA) for user access to critical systems and customer-facing digital services have set the stage to change how financial services organizations should be thinking about their security investments not just for today but for future regulatory changes.
---
Prevent cybercrime and fraud with phishing-resistant MFA
Yubico helps financial services organizations minimize cyber risk by providing phishing-resistant MFA and passwordless authentication for critical business and customer data. By offering differentiated security and the best user experience, financial service organizations can drive high security, employee satisfaction, and new customer growth.
---
Protect your financial info by stopping account takeovers and targeted attacks
In 2019, the FBI received reports of over $1.7 billion in 'email compromise' wire-fraud schemes. Research by Google, NYU, and UCSD based on 350,000 real-world hijacking attempts has proven that secondary emails, on-device prompts, SMS codes and phone numbers aren't as effective as a security key in preventing account takeovers and targeted attacks.
YubiKeys help financial service organizations protect against fraud by stopping account takeovers and targeted attacks, and the YubiHSM helps protect against cyber breaches by ensuring cryptographic hardware security for business-critical servers and applications.
Enhance security for all PII data and systems
Most banking infrastructures have a mix of legacy on-premises and private or public cloud-hosted services. Regardless of where your applications and data reside, you need to ensure they are protected against unauthorized access.
YubiKeys offer high-assurance MFA for employees, contractors and privileged users, so only authorized users have access to PII data and critical systems like payroll and trading. YubiKeys integrate seamlessly with existing IAM solutions such as Microsoft, Okta, Duo and Ping, and provide secure authentication for hundreds of applications and services.
Finance authentication solutions that meet compliance regulations
You need to ensure compliance to various industry regulations including FFIEC, NYDFS Cybersecurity Regulation and NAIC mandates that require MFA for protected access to sensitive data.
The YubiKey enables strong MFA of users before providing access to sensitive and PII data, keeping financial services organizations compliant with existing and emerging regulations including SOX, PSD2, PCI, FIPS, and GDPR.
Grow your customer base by offering differentiated security
Some financial services organizations today have implemented low-security second factor authentication methods for web and mobile banking, while some are still using password-only authentication. Security questions, SMS codes and push notifications aren't resistant to account takeovers and don't offer the best security for your customers.
Show customers that you value security and privacy by offering modern and high assurance authentication such as FIDO2/WebAuthn security keys. Drive new customer acquisition and high customer retention by offering strong MFA with the YubiKey, to protect customer accounts against phishing and account takeovers.
Drive employee and customer adoption with the best user experience and convenience
Waiting for push notifications or typing in one-time passcodes from SMS and email isn't the best user experience or security, especially when cellular signal is weak or unavailable.
Offer best in class user experience to employees and customers with the YubiKey. A single security key conveniently works across laptops, desktops, shared workstations/access terminals, mobiles and tablets, and offers a user experience that is 4 times faster than SMS. To authenticate, users simply tap/touch their security key, and no cellular connection is required.
Stay up to date with financial services security standards
Enabling strong customer authentication with the YubiKey doesn't require a rip and replace of your existing architectures. You can rapidly integrate strong authentication into your products and services
With WebAuthn, developers can rapidly integrate strong authentication and support for YubiKeys into your products and services across web and mobile applications. The Yubico Developer Program provides developers with extensive FIDO U2F, and FIDO2/WebAuthn resources.
---
Modern, strong authentication and compliance for financial services
Read the White Paper to learn how the YubiKey can help financial institutions stay protected against the latest cyber attacks and address global regulatory compliance requirements such as FFIEC, GDPR, PCI DSS, GBLA, PSD2, eIDAS and more.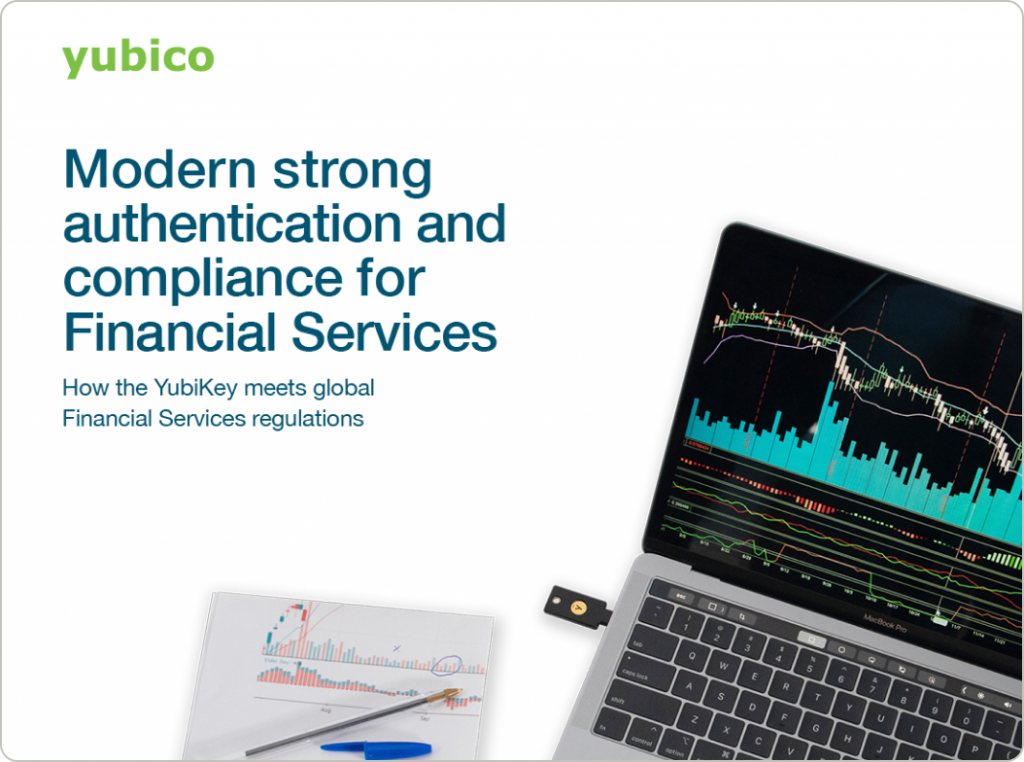 ---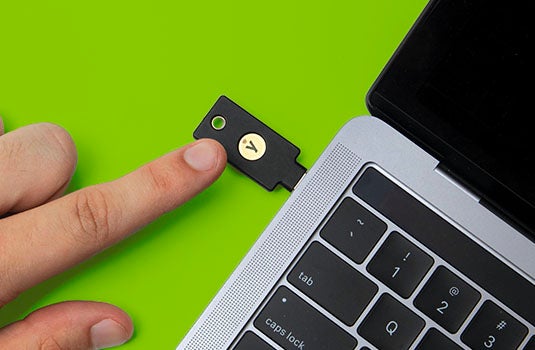 YubiKeys as a Service enable faster and wider rollouts of modern MFA in 2023
Watch this webinar to learn about how to procure YubiKeys as a Service with the new and expanded YubiEnterprise Subscription offering for greater business agility and predictability.
---
Case in point:
---
Large financial corporation
chooses YubiKey
Situation:
Large Financial Corporation specializing in credit cards, auto loans, banking, and savings accounts, and ranked in the top 10 largest banks in the United States by assets.
Call Centers – Needed to secure global workforce with shared workstations; secure front-line to customers with sensitive PII & PCI data
Retail Workers – Needed a fast and seamless login in order to deliver efficient customer service
Privileged Access – Required protection for data accessed by executives, knowledge workers and other privileged users
YubiKey Solution:
Ease of Use – YubiKey enables rapid login and supports response-time SLAs
Low TCO – Supports OTP, with plans to adopt modern authentication approaches such as FIDO U2F as well as smart card PIV all with one single security key for low TCO
IAM Integration – Support single sign-on and federation with existing IAM backend
Result:
140,00 total accounts secured, including 118,000 privileged accounts
Call Center response time SLAs supported
Reduced support incident burden on Central IT for security key registration
"We believe that by using this token we've raised the standard of security for our employees beyond what was commercially available."
"Those using the YubiKey for two-factor access appreciate the quick login capabilities."
---
Risk reduction, business growth, and efficiency enabled by YubiKeys
A recent Forrester Consulting Total Economic Impact™ (TEI) study commissioned by Yubico found that a composite organization representative of interviewed customers who use YubiKeys reduced risk of successful phishing and credential theft attacks by 99.9%, saw a drop in password-related helpdesk tickets by 75%, and experienced a 203% 3-year ROI with YubiKeys.

BUT…. all organizations are different. Enter your own company data to create a custom Dynamic TEI study and instantly see how Yubico's solutions can help your organization!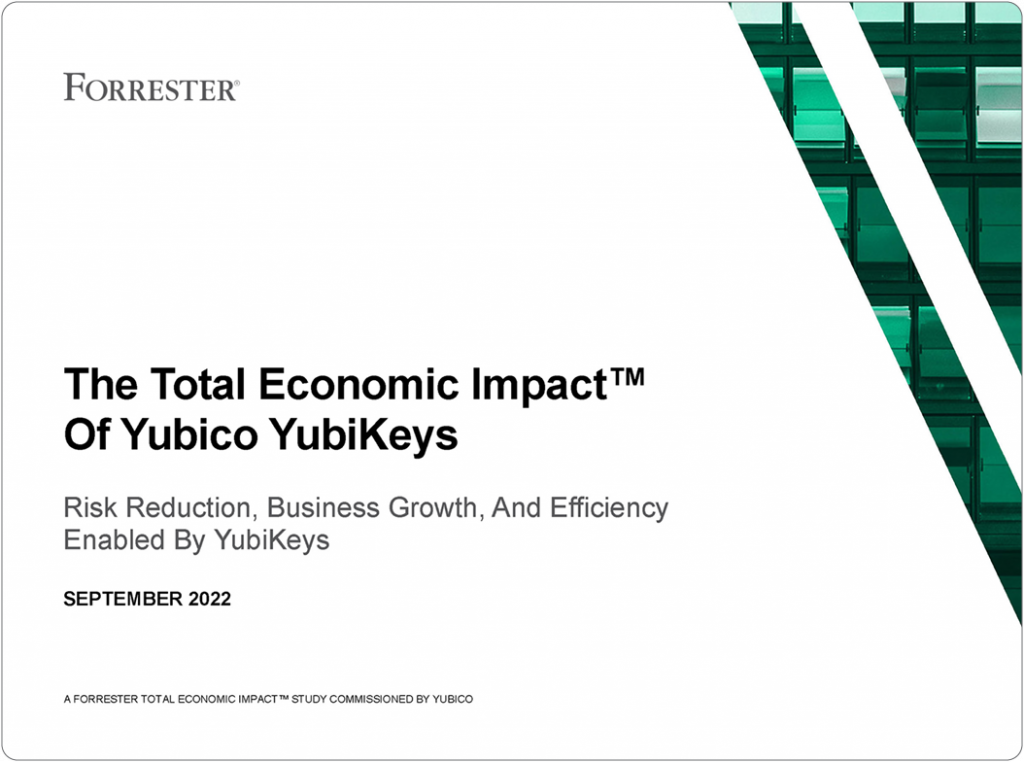 YubiEnterprise Subscription: peace of mind and flexibility for less than a cup of coffee per user/month
YubiEnterprise Subscription simplifies purchase and support while also providing financial benefits. Estimate your potential savings as compared to one-time perpetual purchasing model