Modern security for call center environments
Secure access to sensitive PII and financial customer data with phishing-resistant MFA
Read the solution brief
The ideal hardware security key to secure data against phishing and improve agent productivity
YubiKeys offer phishing-resistant multi-factor and passwordless authentication for in-person,
hybrid, and remote call center environments ensuring data security and high productivity.
Many global regulations such as PCI DSS call for mobile-free environments across call centers as using mobile phones for authentication is not optimal, given poor levels of security, distractions, and reduced agent productivity.
YubiKeys meet the strictest global authentication requirements including PCI DSS 4.0 and are highly suitable for mobile-free requirements and shared workstations typically found across call centers. They offer an exceptional user experience, ensuring that your customer data is always protected and your employees are highly productive.
---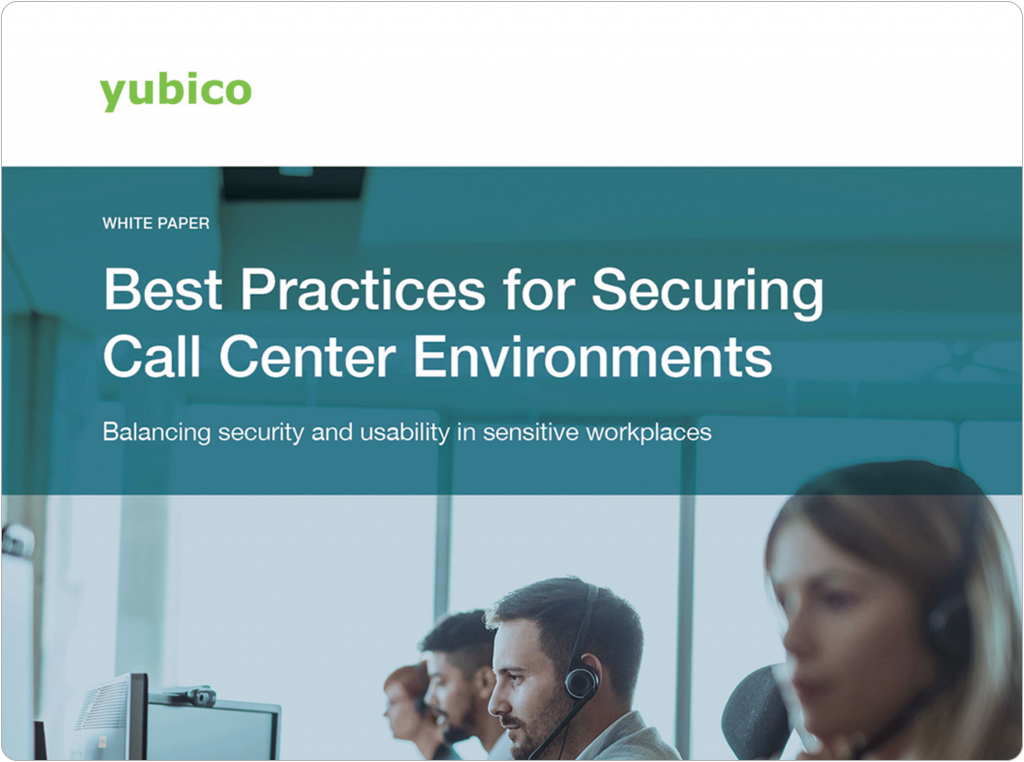 Best practices for securing
call center environments
Read the white paper to learn how to achieve the right balance of security and usability across such sensitive workplaces.
---
Benefits from the phishing-resistant YubiKey

Secure confidential customer data
The use of cellular devices for authentication across call centers creates a security risk, allowing users to take photos of customer data. Mobile-based authenticators are also highly susceptible to phishing attacks, account takeovers, man-in-the-middle (MiTM) attacks and SIM Swapping. To ensure the confidentiality and integrity of customer data and to maximize productivity, the YubiKey provides phishing-resistant MFA to help organizations secure sensitive and confidential PII customer data, and satisfy global regulations such as PCI DSS 4.0

Protect shared workstation environments
A single YubiKey works across multiple shared devices including desktops, laptops, mobile, tablets, and notebooks, enabling users to utilize the same key as they navigate between devices, and helping you deploy phishing-resistant MFA at scale across shared workstations that are typically found across call center environments. YubiKeys are also easily re-programmed, making them highly suitable for rotating-shift and temporary workers across these environments.

Improve efficiency and productivity with enhanced user experience
Not all forms of multi-factor authentication (MFA) offer the optimal balance of strong security with a fast and easy user experience that enables high productivity. Mobile authenticators typically increase the number of steps in the authentication process, requiring users to wait for SMS, OTP or push app codes.
The YubiKey offers strong MFA and passwordless authentication with just one touch or tap of the YubiKey, and is 4 times faster than typing in an OTP, ensuring that your users can quickly access the services they require, driving high productivity. YubiKeys with NFC capability are also highly suitable for call centers that have USB port restrictions.

Reduce IT support costs and drive high ROI
The combination of frictionless user experience, data breach prevention, mobile device and service cost savings, and the YubiKeys' versatility with multi-protocol support results in high ROI for any call center environment.
In addition to reducing risk by 99.9%, the YubiKey has been shown to drive a 203% 3-year ROI and a drop in password-related help desk tickets by 75%.
---
Call center webinar
---
Risk reduction, business growth, and efficiency enabled by YubiKeys
A recent Forrester Consulting Total Economic Impact™ (TEI) study commissioned by Yubico found that a composite organization representative of interviewed customers who use YubiKeys reduced risk of successful phishing and credential theft attacks by 99.9%, saw a drop in password-related helpdesk tickets by 75%, and experienced a 203% 3-year ROI with YubiKeys.

BUT…. all organizations are different. Enter your own company data to create a custom Dynamic TEI study and instantly see how Yubico's solutions can help your organization!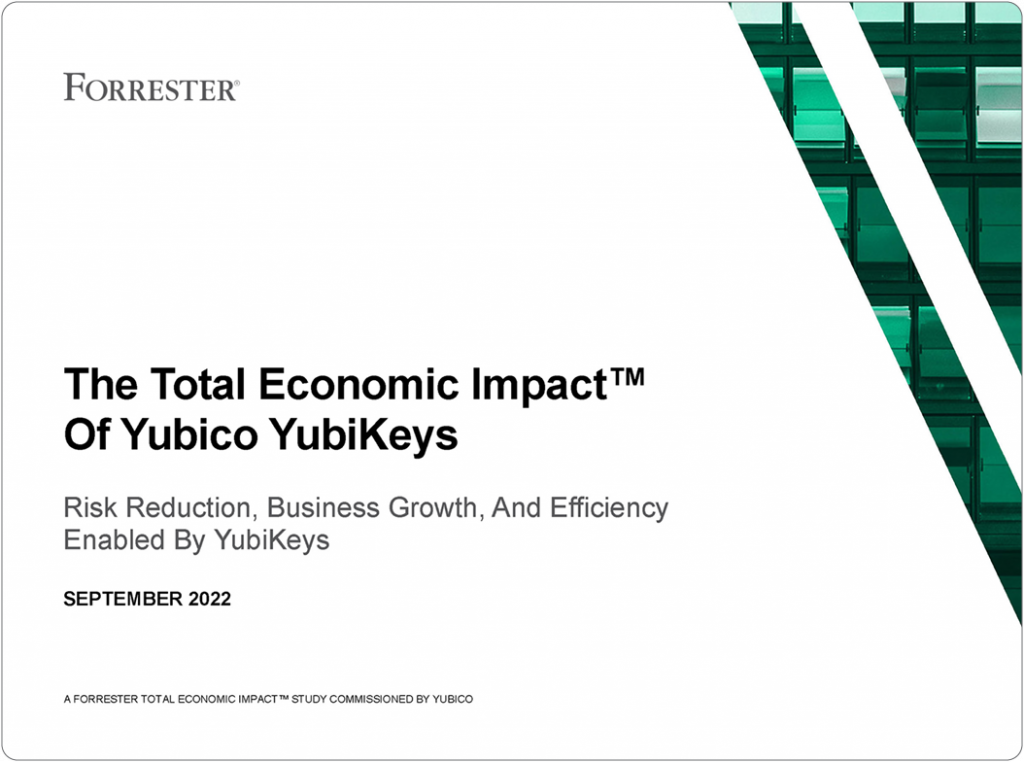 ---
YubiEnterprise Subscription: peace of mind and flexibility for less than a cup of coffee per user/month
YubiEnterprise Subscription simplifies purchase and support while also providing financial benefits. Estimate your potential savings as compared to one-time perpetual purchasing model
---
Get Started

Find the right YubiKey
Contact our sales team for a personalized assessment of your company's needs.
Get protected today
Browse our online store today and buy the right YubiKey for you.