YubiKeys provide two factor authentication for healthcare organizations
Easy, efficient, strong authentication ensures compliance—securing highly sensitive patient information and high-assurance transactions.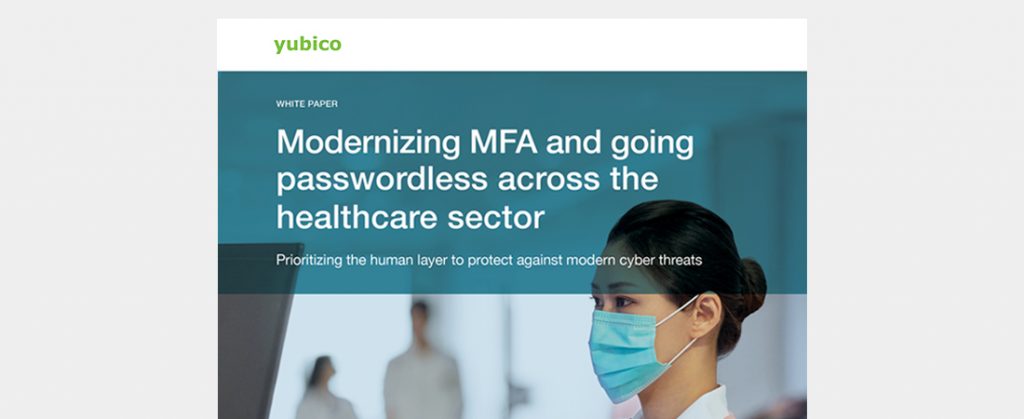 Modernize MFA and go passwordless across healthcare
Read the Yubico white paper to learn the challenges with legacy MFA and how to bridge to modern passwordless authentication.
---
2FA in Electronic Health Record (EHR) and Protected Patient Data
Email has become the top source of healthcare breaches, according to Modern Healthcare, with 1 out of 7 healthcare employees falling victim to phishing scams (HIPAA Journal). Easily phishable passwords or SMS-based two-factor authentication (2FA) is insufficient for highly sensitive patient information and electronic health records (EHR).
The YubiKey is proven to eliminate phishing and account takeovers. It enables strong passwordless, two-factor or multi-factor authentication of computer and mobile devices. The YubiKey is the added-level of security for high-assurance transactions.
Passwordless authentication in healthcare
With roughly 73% of medical staff sharing passwords (Health IT Security) to save time and access electronic health records, an organization is highly vulnerable to breaches.
The YubiKey offers fast, tap-and-go passwordless login that is 4x faster than login with SMS. Ease-of-use drives user adoption. The YubiKey works for shared workstations and does not require a cellular connection or batteries.
HIPAA two factor authentication
As healthcare is one of the most highly regulated industries in the world, ensuring HIPAA compliant authentication is a critical success factor.
YubiKey enables strong verification of users before providing access to patient data—keeping organizations in compliance with existing and emerging healthcare regulations worldwide.
---
Case in Point:
---
ZorgSaam meets the need for remote secure access to medical data
ZorgSaam is a Netherlands-based healthcare provider, specializing in orthopedics, cardiology, pediatrics, obsterics and more
Situation:
Citrix Netscaler-based infrastructure already provided access to its secured environment
Needed a secure authentication solution to secure logins originating from outside this secured environment
YubiKey solution:
Hardware-based authentication solution chosen to secure all external login requests
No additional hardware requests
Key differentiators included high durability, no reliance on batteries or moving parts, and high ease-of-use
Result:
Users have embraced the YubiKey and carry it conviently on key rings
Adoption accelerated and is in uses by over 3500 employees
The YubiKey is replacing authentication point solutions across the organization
"…of the employees who receive quarterly training, 24 percent said they write down their user names and passwords…"
"Reports show that ransomware and other cyberattacks are on the rise – and health care is one of the biggest targets"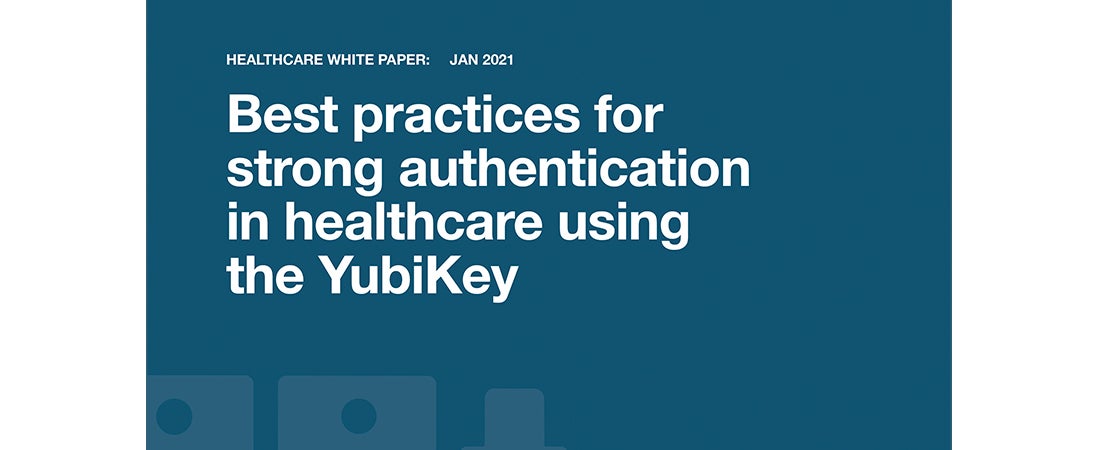 Best practices for strong authentication in healthcare
Read the Yubico white paper to learn the seven best practices of how YubiKeys help healthcare organizations with strong authentication
---
Risk reduction, business growth, and efficiency enabled by YubiKeys
Read the Forrester Consulting study commissioned by Yubico and see how a composite organization reduced risk by 99.9%, saw a drop in password-related helpdesk tickets by 75%, and experienced a 203% 3-year ROI with YubiKeys.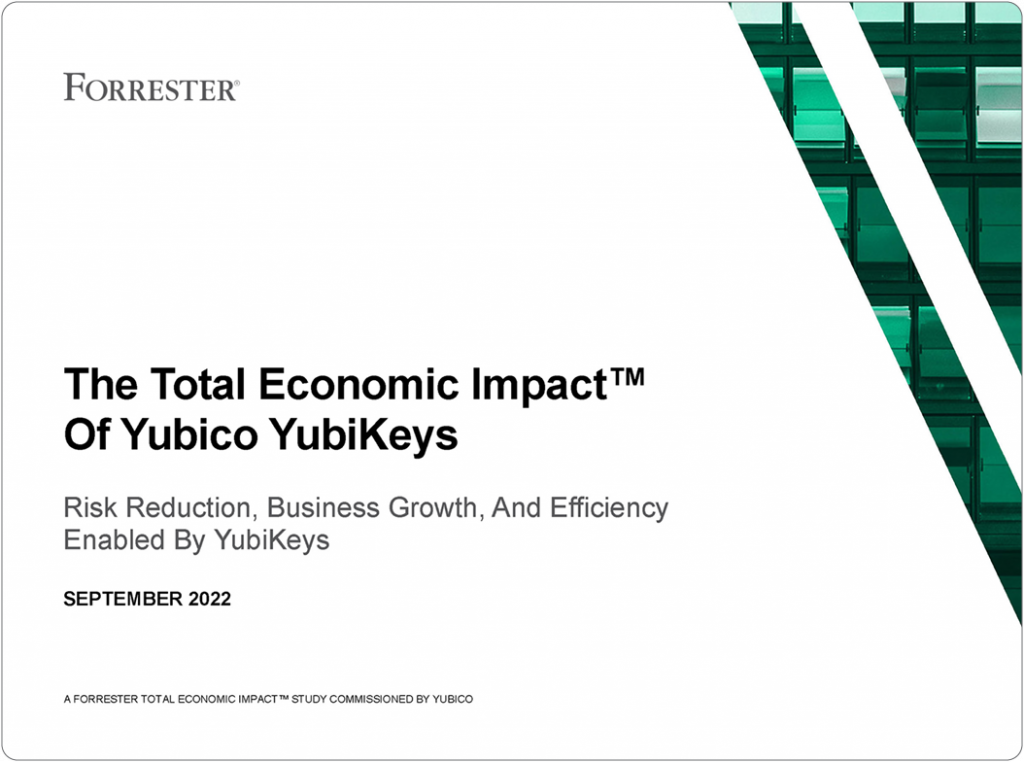 ---
YubiEnterprise Subscription: peace of mind and flexibility for less than a cup of coffee per user/month
YubiEnterprise Subscription simplifies purchase and support while also providing financial benefits. Estimate your potential savings as compared to one-time perpetual purchasing model
---
Learn more about Healthcare and strong authentication
Get started

Find the right YubiKey
Contact our sales team for a personalized assessment of your organization's needs.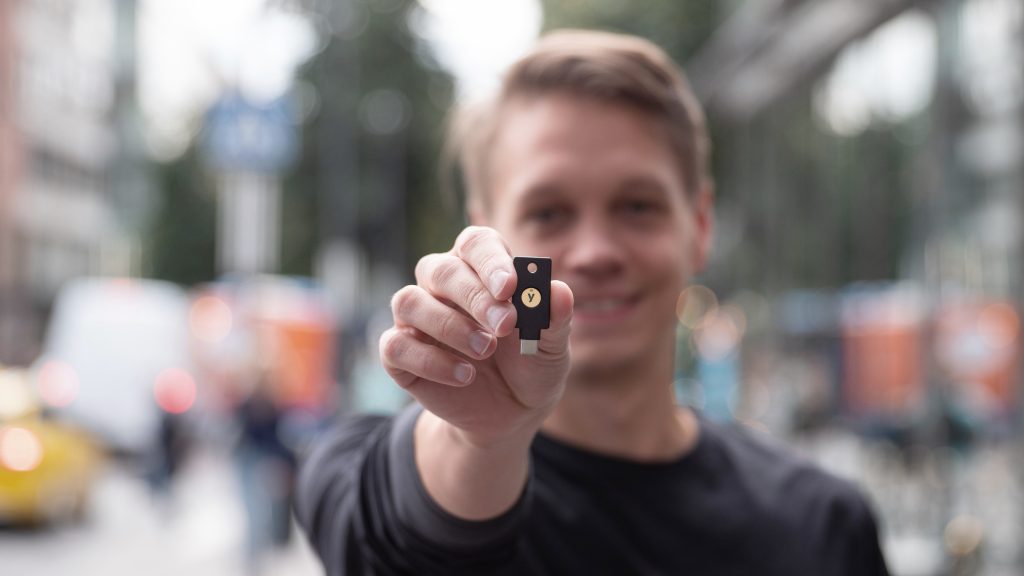 Get protected today
Browse our online store today and buy the right YubiKey for you.