PALO ALTO, CA, JAN. 6, 2016 – Yubico, the leading provider of simple and open online identity protection, today announced it will be participating at ShowStoppers @ CES (Consumer Electronics Show) 2016.  Yubico will be demonstrating the first FIDO U2F-certified NFC-enabled YubiKey and a preview of a software-based U2F mobile client that brings public-key cryptography to both consumer and enterprise mobile users with a tokenless and passwordless experience.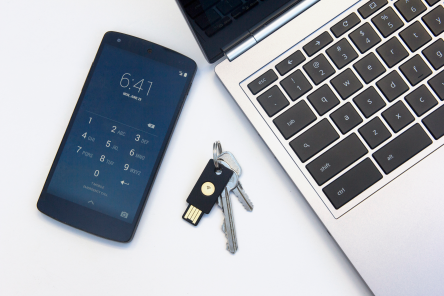 Yubico will be exhibiting at booth B-12 at ShowStoppers on Wednesday, January 6, 2016, 6-10 p.m., at the Wynn Las Vegas.
Hacking, data loss, and identity theft is no longer just a concern to enterprises, but a threat that reaches everyone online.  The time is now and the technology is here for consumers to protect themselves beyond just a username and password.  Yubico's YubiKey holds the promise of a more secure online and mobile consumer experience, and a dramatic increase in enterprise security.
The YubiKey NEO is the first device certified for U2F mobile authentication over NFC (Near Field Communication).  At ShowStoppers, Yubico will demonstrate how a single YubiKey NEO securely authenticates to both online services via USB and a U2F supported mobile login, with a simple tap of the YubiKey to an NFC-enabled mobile device.
"2016 is the year when FIDO U2F will unfold its promise of a 'universal' second factor," said Stina Ehrensvard, CEO and Founder, Yubico, Inc. "This year, we expect to see many more large-scale online service providers announce their support for U2F and YubiKeys, targeting both consumers and enterprises."
Also at Showstoppers, Yubico is demonstrating a software-based U2F mobile client (iOS/Android) that does not require additional hardware. With the U2F mobile client, second-factor authentication can be a password or the fingerprint used to unlock the phone, enabling the first tokenless and passwordless user experience for FIDO U2F.
While external hardware authenticators without internet connections offer the highest level of identity protection, Yubico's U2F mobile client provides a heightened level of security compared to a static username and password login. As an example, an online bank that adds supports for U2F can allow its mobile users to perform lower-value transactions using the U2F mobile client only, while higher-value transactions would require U2F hardware authentication.
The YubiKey NEO is available today at Amazon.com and Yubico web store for $50 (single quantity retail price).
About Yubico
Yubico sets new global standards for simple and secure access to computers, mobile devices, servers, and internet accounts.
The company's core invention, the YubiKey, delivers strong hardware protection, with a simple touch, across any number of IT systems and online services. The YubiHSM, Yubico's ultra-portable hardware security module, protects sensitive data stored in servers.
Yubico is a leading contributor to the FIDO2, WebAuthn, and FIDO Universal 2nd Factor open authentication standards, and the company's technology is deployed and loved by 9 of the top 10 internet brands and by millions of users in 160 countries.
Founded in 2007, Yubico is privately held, with offices in Sweden, UK, Germany, USA, Australia, and Singapore. For more information: www.yubico.com.