As more devices leverage USB-C, we're happy to share that our Security Key Series is expanding to meet this need. Built with the trademark Yubico security and quality that you've grown to love, the blue Security Key C NFC is the latest key to join our Security Key Series.
Available for purchase today for $29 (€29), this security key offers FIDO-only support in a USB-C form factor with NFC capabilities. It provides enhanced, modern security for applications, services, and user accounts for both desktop and mobile authentication. For customers looking for a USB-A form factor, we've got you covered! You can purchase the Security Key NFC here for $25 (€25).
To learn more about the Security Key C NFC, please join us in our conversation with Twitter tomorrow (10/27) at 11:30 a.m. PT on Twitter Spaces from your Twitter app on your phone. During this chat, you'll hear from Steve Butsch, Sr. Solutions Engineer at Yubico and three Twitter employees who will chat about the benefits of using a hardware security key, like a YubiKey or the Security Key C NFC, to secure both business and personal accounts. Furthermore, how YubiEnteprise Services and YubiEnterprise Delivery helped Twitter deliver YubiKeys to employees both remotely and in-office, how to leverage security keys as a 2FA option for your Twitter account, and more.
Both devices in the Security Key Series support FIDO U2F and FIDO2/WebAuthn, which is based on the Yubico invention of enabling one single authenticator to work across any number of applications. There are many forms of MFA, but not all are created equal. FIDO-based authentication is the only method proven to protect against phishing and man-in-the-middle attacks.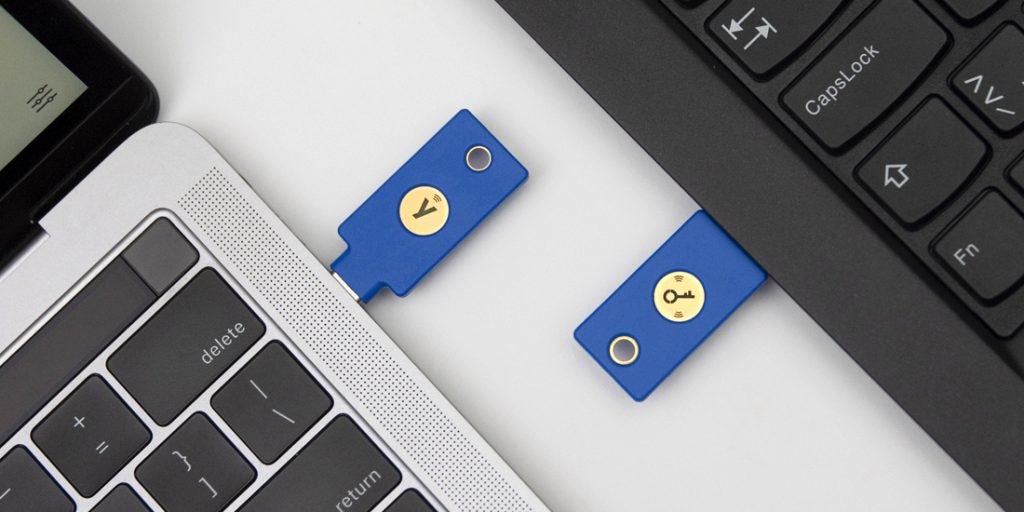 Security Key C NFC (left) and Security Key NFC (right)
Is the Security Key C NFC right for you?
The keys in this series are ideal for users who:
Want a simple, out of the box security key that offers the highest grade of modern, physical authentication at a more accessible price point.
Are securing accounts that support FIDO U2F or FIDO2/WebAuthn authentication protocols. The Security Key C NFC works with hundreds of popular websites and applications that you use everyday, including:

Gmail, YouTube, Dropbox, Twitter, Coinbase, Microsoft accounts (such as Office 365, Xbox live, etc.), and much more.
A growing list of password managers, social media networks, productivity and business applications, and cryptocurrency exchanges.

Are using NFC for tap and go authentication into supported accounts.
Need hardware-based authentication across desktop and mobile.
Want both a water and crush-resistant keychain based security key.
For customers who are considering YubiKeys for strong authentication at scale and to manage a wide range of business scenarios, we recommend the YubiKey 5 Series which delivers multiple authentication protocols, support for Yubico Authenticator, and a broad range of form factors. To find out which key is right for you, please take our quiz.
You can read more about the capabilities and specs of the Security Key C NFC key here. To purchase the Security Key C NFC key, visit our store or Amazon.