PALO ALTO, CA and ORLANDO, FL – Sept. 25, 2017 – Yubico, the leading provider of authentication and encryption hardware devices for the modern web, today launched the YubiKey 4C Nano, the world's smallest, multi-protocol USB-C authentication device available. Yubico will demonstrate the new YubiKey USB-C form factor at the Microsoft Ignite conference (booth #2063) in Orlando, Florida on September 25-28, 2017.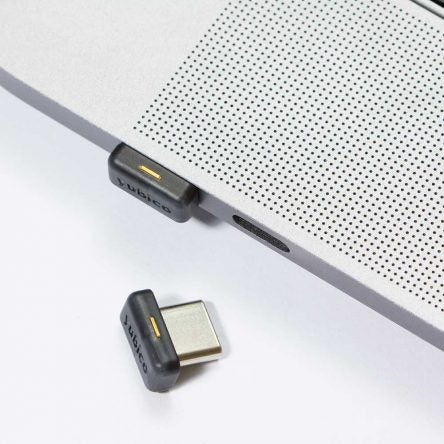 The YubiKey 4C Nano is an engineering and product design triumph, delivering enterprise-grade authentication functionality within a micro-sized hardware device. Its innovative ultra-slim USB-C form factor (12mm x 10.1mm x 7mm) is designed for use with the latest devices featuring USB-C ports, such as newly designed Mac and PC laptops. To enable the device to sit in the USB-C port as a semi-permanent installation, Yubico engineered a patent-pending connector design, creating the smallest USB-C authentication device on the market.
The YubiKey 4C Nano supports multiple authentication protocols similar to the other keys built on the YubiKey 4 platform, including the YubiKey 4, YubiKey 4 Nano, and YubiKey 4C. With one touch, it performs strong crypto and touch-to-sign, FIDO U2F (Universal 2nd Factor), one-time password (OTP), smart card (PIV), and smart card (OpenPGP).
When Yubico launched the YubiKey 4C keychain design in February 2017, customers demanded an even smaller YubiKey form factor with a USB-C design akin to the YubiKey 4 Nano. The YubiKey 4C Nano answers that demand, providing easy-to-use, strong two-factor authentication for secure, one-touch login.
"As we continue to see an onslaught of hacks and data breaches resulting from weak or stolen login credentials, two-factor authentication with the YubiKey is the easiest and most secure way to protect enterprise and consumer identities, accounts, and data," said Stina Ehrensvard, CEO and Founder, Yubico. "We designed the YubiKey 4C Nano to be the most powerful USB-C authenticator on the market, built for the future as USB-C ports become more prevalent across mobile and computing devices."
Requiring only a simple touch to authenticate, the YubiKey 4C Nano secures access to a wide range of enterprise and cloud-based applications, including Windows smart card login and Windows Hello functionality, U2F strong authentication (Facebook, Google, Dropbox, GitHub, Salesforce, etc.), password managers (LastPass, Dashlane, etc.), remote access, VPN, and much more. The YubiKey works on Microsoft Windows, Mac, Linux, and is supported natively in Chrome, Opera and in the pre-beta release of FireFox Nightly, eliminating the need for extra client software or drivers.
The YubiKey 4C Nano is available today at www.Yubico.com/store for $60 US. For more information on Yubico and the company's products and ecosystem, please visit www.Yubico.com or stop by the Yubico booth #2063 at Microsoft Ignite.
About Yubico
Yubico sets new global standards for simple and secure access to computers, mobile devices, servers, and internet accounts.
The company's core invention, the YubiKey, delivers strong hardware protection, with a simple touch, across any number of IT systems and online services. The YubiHSM, Yubico's ultra-portable hardware security module, protects sensitive data stored in servers.
Yubico is a leading contributor to the FIDO2, WebAuthn, and FIDO Universal 2nd Factor open authentication standards, and the company's technology is deployed and loved by 9 of the top 10 internet brands and by millions of users in 160 countries.
Founded in 2007, Yubico is privately held, with offices in Sweden, UK, Germany, USA, Australia, and Singapore. For more information: www.yubico.com.