Today marks an exciting milestone, not only in the history of Yubico, but in the history of security keys and mobile devices. Yubico celebrates more than a decade of cutting edge contributions to the authentication market with its latest innovation, the YubiKey 5Ci, now available for purchase at our Yubico store.
The YubiKey 5Ci is the world's first iPhone- and iPad-friendly* security key designed to deliver strong hardware-backed authentication over a Lightning connection. But that's not all. This key is also equipped with a USB-C connector for securely accessing hundreds of Works with YubiKey applications and services on Mac, Windows, and Android devices as well.
The unique dual-connector functionality of the YubiKey 5Ci, along with the signature multi-protocol features of the YubiKey 5 Series, make this key the perfect solution for consumers and enterprises alike. With support for FIDO2, WebAuthn, FIDO U2F, OTP (one-time password), PIV (Smart Card), and OpenPGP in a single device, the YubiKey 5Ci delivers strong multi-factor (MFA), second-factor (2FA), and single-factor passwordless authentication across a wide range of devices and use cases.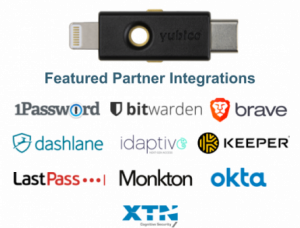 For all our iOS users out there, we know that you're eager to get started with the YubiKey 5Ci. Thanks to our strong ecosystem of partners, we are proud to launch the YubiKey 5Ci with native iOS app support from 1Password, Bitwarden, Dashlane, Idaptive, Keeper Security, LastPass, and Okta. Monkton Rebar and XTN also support the YubiKey 5Ci in their latest software development kits.
You can also access some of your favorite services with the YubiKey 5Ci through the Brave iOS browser, which is the first and only iOS browser to support WebAuthn over the Lightning connector at this time. These services include: Bitbucket.org, GitHub.com, Login.gov, Twitter.com, and 1Password.com.
Yubico continues to collaborate with services and applications on their support of the YubiKey 5Ci, with the goal of our users' favorite, day-to-day apps being added soon. Partners with anticipated YubiKey 5Ci app support include: Dropbox, Keeper Security, SecMaker, and more.
If you see some services or browsers that aren't listed above, please help us by expressing your desire to secure your accounts on iOS with the YubiKey.
Developers, if you'd like to step up the security of your iOS apps or browsers, we've made it easy for you. Visit developers.yubico.com/yubikey5ci to get access the Yubico Mobile SDK for iOS, along with other helpful resources such as implementation guides, webinars, or reference code.
Get started with simple and secure authentication today. The YubiKey 5Ci is available for purchase on yubico.com at a retail price of $70 USD.
*The YubiKey 5Ci works on iPad models with a Lightning connector, however, some capabilities are not compatible via USB-C with the iPad Pro 3rd generation.