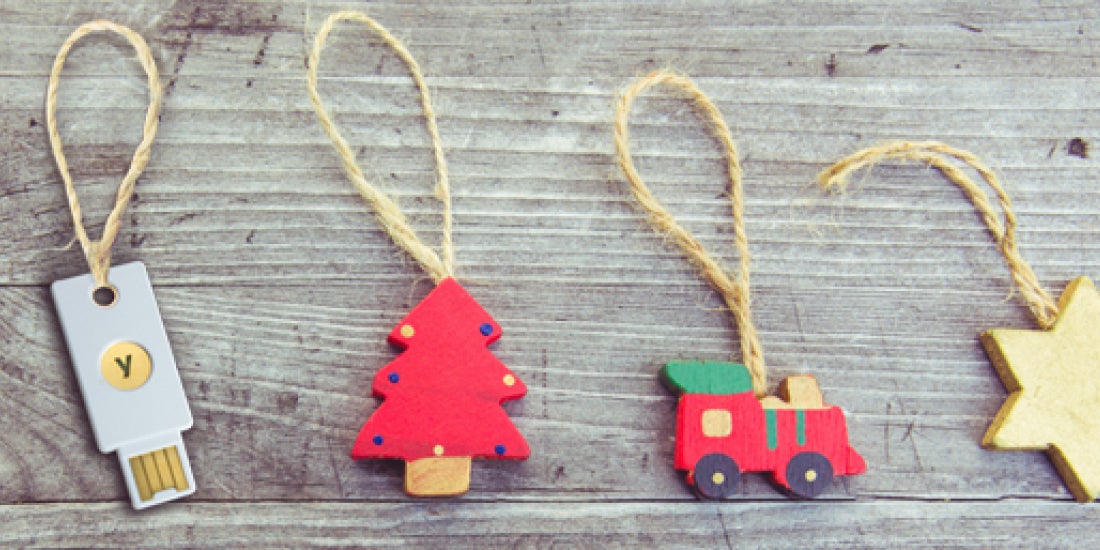 'Tis the season to be jolly and reflect on everything we're thankful for. It's been an incredible year at Yubico, and we're delighted YubiKeys continue to make news this gift giving season.
We've compiled our favorite gift guides because these are just too awesome not to share. And yes, we're on each of them!
US and EU Shoppers: Hoping to receive your order before December 25? Unfortunately, we cannot guarantee shipping times at this time of year. We recommend that you place your order at yubico.com/store by Friday, December 16. You can also buy YubiKeys on Amazon (Pro tip: Amazon has guaranteed shipping times)!
Note: Yubico Store shipping times can vary depending on your country of origin, weather, and other unforeseen obstacles for which we cannot plan.
Photo: Markus Spiske
[/av_textblock]
[av_hr class='default' height='50' shadow='no-shadow' position='center' custom_border='av-border-thin' custom_width='50px' custom_border_color=" custom_margin_top='30px' custom_margin_bottom='30px' icon_select='yes' custom_icon_position='yes' custom_icon_size='20' custom_icon_margin='20' custom_icon_color=" icon='ue808′]
[av_one_fifth first min_height=" vertical_alignment=" space=" custom_margin=" margin='0px' padding='0px' border=" border_color=" radius='0px' background_color=" src=" background_position='top left' background_repeat='no-repeat' animation=" mobile_display="]
[av_image src='/wp-content/uploads/2020/09/yubikey-4-white-2016-444×444.png' attachment='105537′ attachment_size='medium' align='center' styling=" hover=" link='product,105170′ target='_blank' caption=" font_size=" appearance=" overlay_opacity='0.4′ overlay_color='#000000′ overlay_text_color='#ffffff' animation='no-animation'][/av_image]
[/av_one_fifth][av_four_fifth min_height=" vertical_alignment=" space=" custom_margin=" margin='0px' padding='0px' border=" border_color=" radius='0px' background_color=" src=" background_position='top left' background_repeat='no-repeat' animation=" mobile_display="]
[av_textblock size=" font_color=" color="]
YubiKey 4 – Limited Edition White $40
Great stocking stuffer! We've produced a limited edition white YubiKey 4 to celebrate the return of smart card support for Macs, available in the Yubico Store. Quantities are limited, so order today!
[/av_textblock]
[av_button label='Buy Now' link='product,105170′ link_target=" size='medium' position='left' icon_select='yes' icon='ue859′ font='entypo-fontello' color='theme-color' custom_bg='#444444′ custom_font='#ffffff']
[/av_four_fifth]