The YubiKey
The industry's #1 security key, enabling strong two-factor, multi-factor and passwordless authentication.

Easy-to-use, strong authentication
All-in-one configurable security key
With a simple touch, the multi-protocol YubiKey protects access to computers, networks, and online services.
Easier and safer than authenticator apps
No more reaching for your smartphone, or re-typing passcodes. Just plug in your YubiKey, tap, and it does the rest for you.
Works with hundreds of services
The YubiKey works with Windows and Mac login, Gmail, Dropbox, Facebook, Salesforce, Duo, and many more services.
---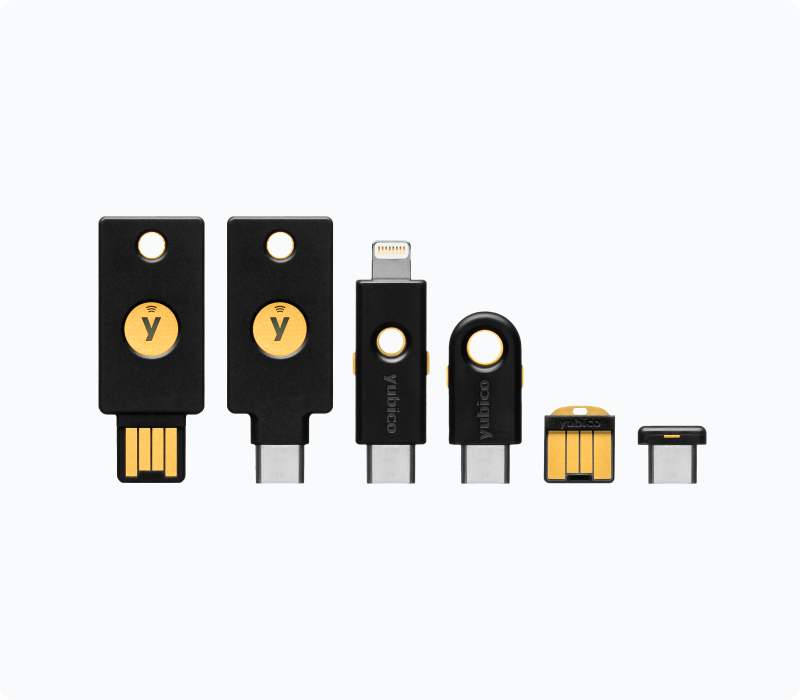 YubiKey 5 Series – The world's #1 multi-protocol security key
The YubiKey 5 Series eliminates account takeovers by providing strong phishing defense using multi-protocol capabilities that can secure legacy and modern systems. The series provides a range of authentication choices including strong two-factor, multi-factor and passwordless authentication, and seamless touch-to-sign.
Stops account takeovers
Multi-protocol support; FIDO2/WebAuthn, U2F, Smart card, OpenPGP, OTP
USB-A, USB-C, Lightning, NFC
Now available YubiKey 5C NFC with USB-C and NFC all-in-one to secure online accounts on mobile and desktops
Learn more about the YubiKey 5 Series >
---
---
YubiKey 5 FIPS Series
The YubiKey 5 FIPS certified security keys meet the highest level of assurance (AAL3) of the new NIST SP800-63B guidelines.
Suitable for government and regulated industries
Multi-protocol support; smart card, OTP, OpenPGP, FIDO U2F, FIDO2/WebAuthn
USB-A, USB-C, Lightning, NFC
Learn more about the YubiKey 5 FIPS Series >
---
---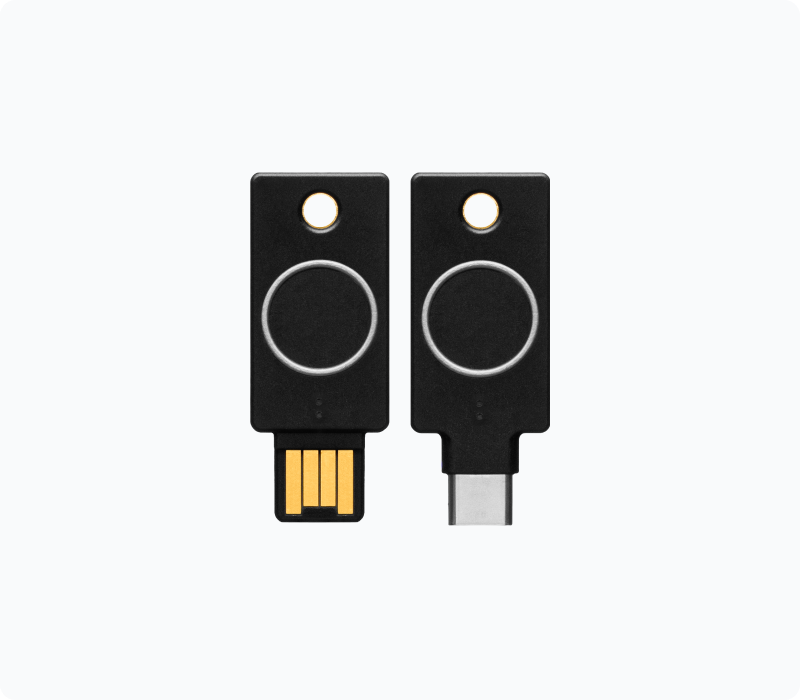 YubiKey Bio Series
YubiKey Bio Series supports biometric authentication using fingerprint recognition for secure and seamless passwordless logins. Built primarily for desktop and designed to offer strong biometric authentication options, the YubiKey Bio Series offers the hallmark hardware security of Yubico, combined with a new user experience.
Meets the most stringent hardware security requirements with fingerprint templates stored in the secure element on the key
Works out-of-the-box with operating systems and browsers including Windows, macOS, Chrome OS, Linux, Chrome, and Edge
Supports FIDO2/WebAuthn, FIDO U2F
Available in both USB-A and USB-C form factors with biometric support
Learn more about the YubiKey Bio Series >
---
---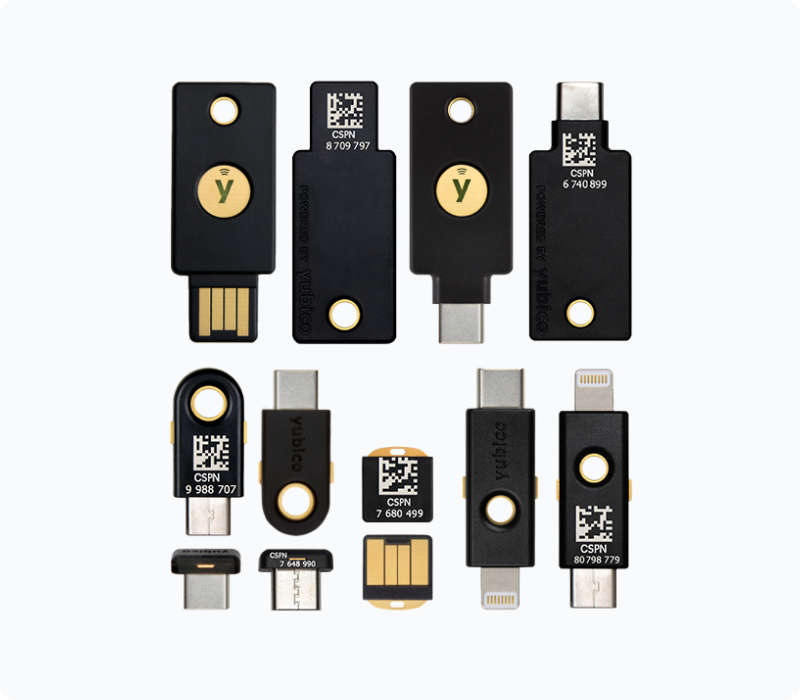 YubiKey 5 CSPN Series
The YubiKey 5 CSPN Series eliminates account takeovers and makes it easy to deploy strong, scalable authentication and protects organizations from phishing attacks.
Multi-protocol support across FIDO2/WebAuthn, FIDO U2F, Smart Card and OTP
Support for secure passwordless login with smart card and FIDO2/WebAuthn authentication
Ability to work across Microsoft Windows, macOS, Android, and Linux, as well as leading browsers
Choice across six form factors that enable users to connect via USB-A, USB-C, NFC and Lightning
Learn more about the YubiKey 5 CSPN Series >
---
---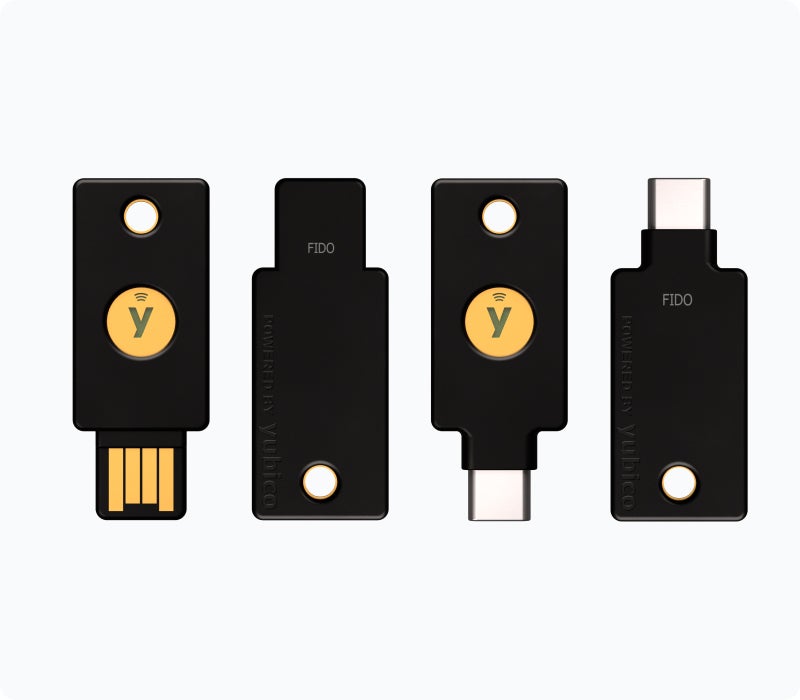 Security Key Series
The Security Key Series by Yubico delivers FIDO-only security keys for both consumers and enterprises. These keys combine hardware-based authentication, public key cryptography, and modern authentication protocols to eliminate account takeovers.
Secures Google Workspace, Microsoft 365, top IAM platforms, password managers, social media applications and hundreds of other services
Supports FIDO2/WebAuthn and FIDO U2F
Works across desktop and mobile with tap-and-go authentication for mobile phones
Highly durable with water- and crush-resistance
USB-A/NFC and USB-C/NFC dual connector keys
Enterprise edition keys offer serial numbering; available with YubiEnterprise Subscription only
Learn more about the Security Key Series >
---
---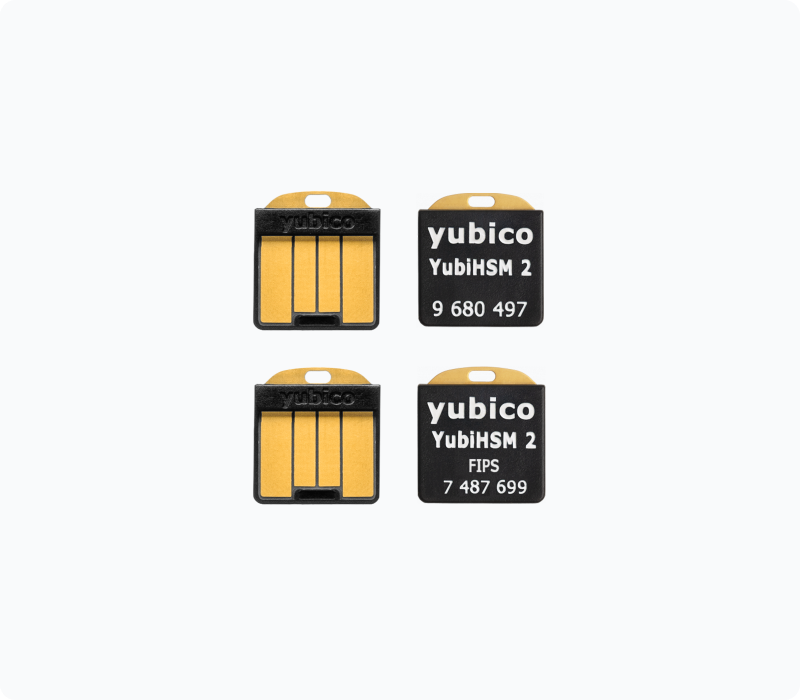 YubiHSM 2 and YubiHSM 2 FIPS
Game changing cryptographic protection for servers, applications and computing devices.
Enhanced protection for cryptographic keys
Rapid integration with hardware-backed security
Simplified deployment for organizations of all sizes
Available in FIPS and non-FIPS versions with same feature set
Learn more about the YubiHSM 2 and YubiHSM 2 FIPS >
---
---
Services
Enterprises can easily procure and distribute YubiKey authentication solutions for employees at scale and get expert support and consulting services to help ensure success.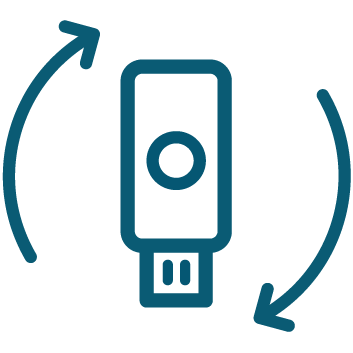 YubiEnterprise Subscription
YubiEnterprise Subscription offers flexible purchasing options to easily buy and upgrade to the latest YubiKeys as your business evolves.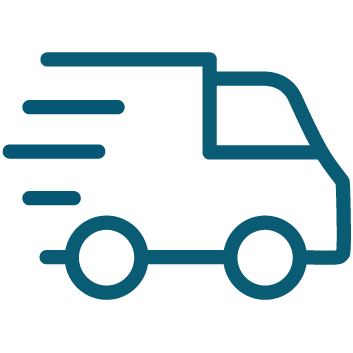 YubiEnterprise Delivery
YubiEnterprise Delivery provides teams with capabilities to manage the delivery of hardware security keys to users globally and accelerates the adoption of strong authentication.
---
Software
Download free software and tools for rapid integration and configuration of the YubiKey two-factor authentication with applications and services.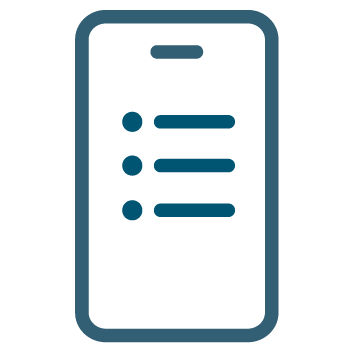 Yubico Authenticator
The Yubico Authenticator app allows you to store your credentials on a YubiKey and not on your mobile phone, so that your secrets cannot be compromised.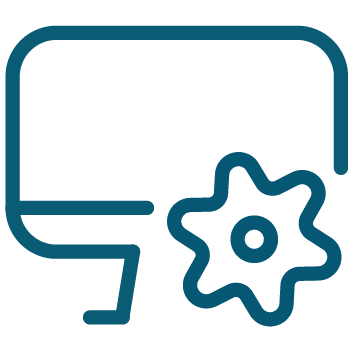 Computer login tools
A range of computer login choices for organizations and individuals. Secure Windows or Macs with strong authentication.
---
Get Started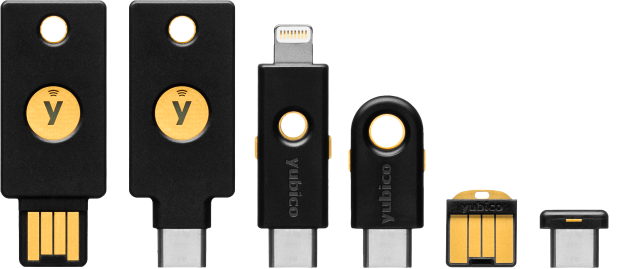 Find the right YubiKey
Take the quick Product Finder Quiz to find the right key for you or your business.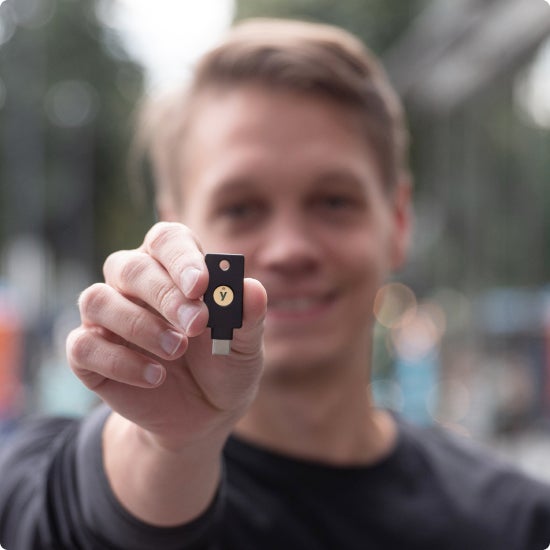 Get protected today
Browse our online store today and buy the right YubiKey for you.