The YubiKey
The industry's #1 security key, enabling strong two-factor, multi-factor and passwordless authentication.
Easy-to-use, strong authentication
All-in-one configurable security key
With a simple touch, the multi-protocol YubiKey protects access to computers, networks, and online services.
Easier and safer than authenticator apps
No more reaching for your smartphone, or re-typing passcodes. Just plug in your YubiKey, tap, and it does the rest for you.
Works with hundreds of services
The YubiKey works with Windows and Mac login, Gmail, Dropbox, Facebook, Salesforce, Duo, and many more services.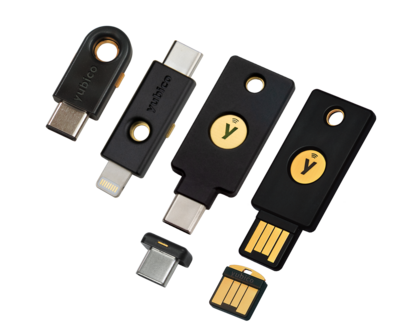 YubiKey 5 Series
The YubiKey 5 Series eliminates account takeovers by providing strong phishing defense using multi-protocol capabilities that can secure legacy and modern systems. The series provides a range of authentication choices including strong two-factor, multi-factor and passwordless authentication, and seamless touch-to-sign.
Stops account takeovers
Multi-protocol support; FIDO2/WebAuthn, U2F, Smart card, OpenPGP, OTP
USB-A, USB-C, NFC
Single key pricing starts at $45
Now available YubiKey 5C NFC with USB-C and NFC all-in-one to secure online accounts on mobile and desktops
Security Key Series
The Security Key by Yubico Series is comprised of a single key - the Security Key NFC - which combines hardware-based authentication, public key cryptography, and the U2F and FIDO2/WebAuthn protocols to eliminate account takeovers.
Works out of the box with Gmail, Facebook, and hundreds more
Supports FIDO2/WebAuthn, U2F
Waterproof and crush resistant
USB-A and NFC dual connectors on a single key
YubiKey FIPS Series
The YubiKey FIPS certified security keys meet the highest level of assurance (AAL3) of the new NIST SP800-63B guidelines.
Suitable for government and regulated industries
Multi-protocol support; smart card, OTP, U2F
USB-A, USB-C
Single key pricing starts at $46
YubiKey 5C NFC - now available
The YubiKey 5C NFC is a multi-protocol hardware authenticator with support for USB-C and NFC in an all-in-one key.
Fast and secure tap-and-go authentication
Secures all major browsers and operating systems
Reduces IT operational costs
Multi-protocol support for FIDO2/WebAuthn, FIDO (U2F), Smart Card, OTP
A single key secures hundreds of services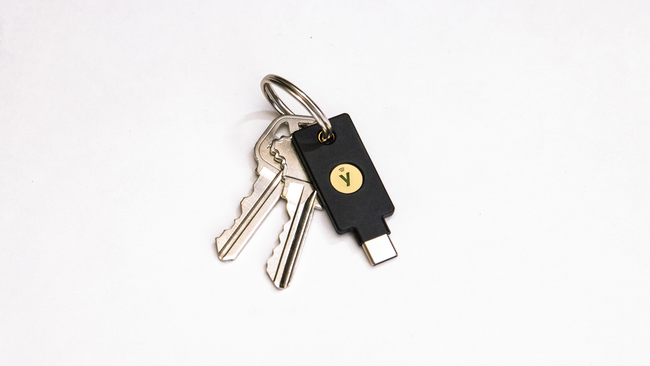 YubiKey Bio - coming soon
The YubiKey Bio is a hardware authenticator with support for fingerprint recognition.
Strong security with seamless passwordless login
Store multiple fingerprints; supports both biometric and PIN-based login
High security ROI due to reduced helpdesk calls
Find Your YubiKey
The YubiKey comes in a variety of shapes and with different features to fit your needs. Take our quick Product Finder Quiz to find the right key for you.