PALO ALTO, CA and STOCKHOLM, SWEDEN – September 24, 2018 – Yubico, the leading provider of hardware authentication security keys, today announced the launch of the YubiKey 5 Series, the industry's first multi-protocol security keys supporting FIDO2/WebAuthn. With this new addition, the YubiKey 5 Series has the capability to replace weak password-based authentication with strong hardware-based authentication.
 
Yubico continues to create authentication technologies that not only work for today's authentication scenarios, but into tomorrow's, helping to bridge the gap from existing solutions to a future of passwordless login. The YubiKey 5 series delivers the same ease of use, high level of security, and durable construction expected from a YubiKey, with added authentication and communication interface functionality.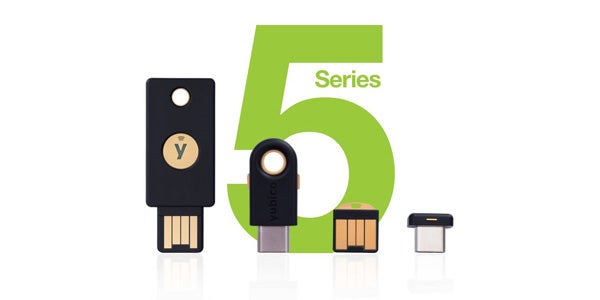 Multi-protocol in design, including FIDO U2F, smart card (PIV), Yubico OTP, OpenPGP, OATH-TOTP, OATH-HOTP, and Challenge-Response on a single device, the YubiKey 5 Series now introduces FIDO2 to the lineup. The YubiKey 5 NFC is also new to the series, incorporating all protocols support over USB and NFC for new user experiences like tap-and-go authentication across desktop, laptop and mobile with FIDO2. 
"Innovation is core to all we do, from the launch of the original YubiKey ten years ago, to the concept of one authentication device across multiple services, and today as we are accelerating into the passwordless era," said Stina Ehrensvard, CEO and Founder, Yubico. "The YubiKey 5 Series can deliver single-factor, two-factor, or multi-factor secure login, supporting many different uses cases on different platforms for different verticals with a variety of authentication scenarios."
"Passwordless login brings a monumental change to how business users and consumers will securely log in to applications and services," said Alex Simons, Corporate Vice President, Microsoft Identity Division. "With FIDO2, Microsoft is working to remove the dependency on password-based logins, with support from devices like the YubiKey 5."
The YubiKey 5 Series provides superior defense against phishing and account takeovers, enables compliance for strong authentication, and significantly reduces IT costs. Technical specifications include:
Supported protocols: FIDO2, FIDO U2F, smart card (PIV), Yubico OTP, OpenPGP, OATH-TOTP, OATH-HOTP, and Challenge-Response
Secure element hardware to protect cryptographic keys and process cryptographic operations
Crypto Algorithms: RSA 4096, ECC p256, ECC p384
Interface: USB-A, USB-C, and NFC (only available on YubiKey 5 NFC)
Works on Microsoft Windows, Mac OS X, Linux, Chrome OS, Android and iOS operating systems, and on major web browsers
Manufactured and programmed in the USA and Sweden
For businesses and developers interested in supporting passwordless authentication with the YubiKey 5 Series, online training and open source assets are available via the Yubico Developer Program.
The YubiKey 5 Series is now available for purchase at www.yubico.com/store, starting at $45 US. For more information on Yubico and the YubiKey 5 Series, visit www.yubico.com.
About Yubico
Yubico sets new global standards for simple and secure access to computers, mobile devices, servers, and internet accounts.
The company's core invention, the YubiKey, delivers strong hardware protection, with a simple touch, across any number of IT systems and online services. The YubiHSM, Yubico's ultra-portable hardware security module, protects sensitive data stored in servers.
Yubico is a leading contributor to the FIDO2, WebAuthn, and FIDO Universal 2nd Factor open authentication standards, and the company's technology is deployed and loved by 9 of the top 10 internet brands and by millions of users in 160 countries.
Founded in 2007, Yubico is privately held, with offices in Sweden, UK, Germany, USA, Australia, and Singapore. For more information: www.yubico.com.