PALO ALTO, CA, Oct. 1, 2015 – Yubico, the leading provider of simple and open online identity protection, today announced GitHub has added FIDO Universal 2nd Factor (U2F) support for YubiKey two-factor authentication.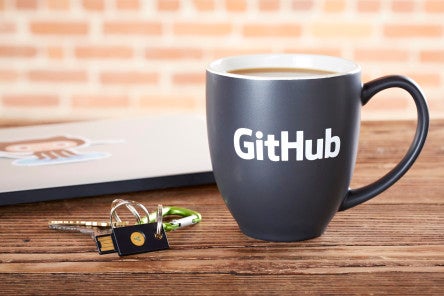 At the first-ever GitHub Universe conference, Yubico CEO Stina Ehrensvard was a guest during the opening keynote to introduce YubiKeys and explain how standardized FIDO U2F strong authentication will help secure the future of the internet. During the keynote, GitHub unveiled its new two-factor authentication features, backed by FIDO U2F and YubiKeys, and the company's push to provide modern security to the GitHub user base.
GitHub, with one of the largest developer communities in the world encompassing 11 million users working on more than 27 million projects, is taking a proactive approach to updating security and access controls to protect the volumes of sensitive data stored in its repositories.
"As co-creators of the FIDO U2F protocol, we are thrilled to help GitHub put U2F-certified YubiKey devices in the hands of developers who are currently creating services used by everyone on the internet," said Jerrod Chong, VP Solutions Engineering, Yubico. "Taking a look at the open source examples of U2F implementation, GitHub was able to build comprehensive support in a short time, taking advantage of the open source community around U2F that Yubico has nurtured."
Today, GitHub is using integrated U2F support to enable users to access and protect the integrity of their software code with easy-to-use strong public key cryptography. Strong authentication provided by U2F helps protect against modern hacker techniques such as phishing and man-in-the-middle attacks that plague the current breach-filled world.
The YubiKey is a hardware device that implements U2F and works with a simple touch to trigger U2F's public/private key exchange. The YubiKey simply plugs into a USB port to begin the process of securely authenticating the user.
As part of day one at GitHub Universe, there will be an afternoon session focused on security, explaining how GitHub partnered with Yubico to implement U2F. Ben Toews, GitHub security engineer, will outline the GitHub implementation while Yubico's Chong will explain the inner workings of the FIDO U2F protocol.
GitHub plans to include FIDO U2F in its continuing advocacy for standardized technology, and will push industry leaders to support U2F's ease-of-integration along with its promise of better security and privacy.
Yubico is proud to join GitHub and its ecosystem, and will help it get developers, companies, and industries to take action now and put simple, scalable public key cryptography in the hands of millions of internet users.
YubiKeys supporting the GitHub integration; FIDO U2F Security Key, YubiKey Edge and YubiKey Edge-n, and the YubiKey NEO and YubiKey NEO-n.  
For more information on the integration, please visit yubi.co/github.
About Yubico
Yubico sets new global standards for simple and secure access to computers, mobile devices, servers, and internet accounts.
The company's core invention, the YubiKey, delivers strong hardware protection, with a simple touch, across any number of IT systems and online services. The YubiHSM, Yubico's ultra-portable hardware security module, protects sensitive data stored in servers.
Yubico is a leading contributor to the FIDO2, WebAuthn, and FIDO Universal 2nd Factor open authentication standards, and the company's technology is deployed and loved by 9 of the top 10 internet brands and by millions of users in 160 countries.
Founded in 2007, Yubico is privately held, with offices in Sweden, UK, Germany, USA, Australia, and Singapore. For more information: www.yubico.com.