PALO ALTO, CA, November 2, 2015 – Yubico, the leading provider of simple and open online identity protection, today announced the company's participation and activities at Oktane, November 2-4 in Las Vegas. Yubico will be exhibiting YubiKey integration into Okta Adaptive MFA and FIDO Certified™ Universal Second Factor (U2F) authentication functionality throughout the event.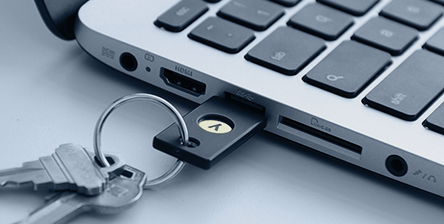 There is a movement in identity management focused intently on security that incorporates strong two-factor authentication.
At Oktane, Yubico will be highlighting the company's partnership with Okta to integrate YubiKeys into its cloud identity ecosystem, which creates a foundation for secure connections between people and technology.  Inclusion into Okta's platform reaffirms the reputation of the YubiKey as a highly sought after authentication technology by many leading software providers and services.
"YubiKeys are now an option for stronger authentication as part of Okta's Adaptive Multi-Factor Authentication (MFA)," said Jerrod Chong, vice president, Solutions Engineering, Yubico.  "With this service, users are able to securely and easily authenticate with the YubiKey to Okta's platform, which lets users authenticate once and access any number of applications."
The YubiKey is a hardware device that plugs into a USB port and works with a simple touch to trigger a one-time passcode (OTP) that securely authenticates the user. This single touch to activate a second factor makes YubiKey the preferred choice for users logging in from any device with a USB port.
YubiKeys offer a wide range of strong authentication options including one-time password (OTP), FIDO U2F, OpenPGP, PIV support and more.  At Oktane, Yubico also will be highlighting the simplicity and usability of FIDO U2F login to Google, Dropbox, and GitHub accounts.  
Yubico's Jerrod Chong will  participating in the session 'How LinkedIn Secures Its Employees with MFA, Okta and YubiKey' on Wednesday, Nov. 4th, 10:45 a.m. – 11:30 a.m.  Okta's set of MFA integrations, including the newest integrations with Yubico's YubiKey, provide a simple, easily deployable hard token-based authentication method. Jerrod and Raj Nagalingam from LinkedIn will present a case study in which LinkedIn rolled out MFA to all of its employees using Okta.
YubiKeys that support  the Okta integration include the YubiKey Standard and Nano, YubiKey Edge and Edge-n, and the YubiKey NEO and NEO-n. For more information and to learn more about Yubico, YubiKeys and FIDO U2F, please visit www.yubico.com.
About Yubico
Yubico sets new global standards for simple and secure access to computers, mobile devices, servers, and internet accounts.
The company's core invention, the YubiKey, delivers strong hardware protection, with a simple touch, across any number of IT systems and online services. The YubiHSM, Yubico's ultra-portable hardware security module, protects sensitive data stored in servers.
Yubico is a leading contributor to the FIDO2, WebAuthn, and FIDO Universal 2nd Factor open authentication standards, and the company's technology is deployed and loved by 9 of the top 10 internet brands and by millions of users in 160 countries.
Founded in 2007, Yubico is privately held, with offices in Sweden, UK, Germany, USA, Australia, and Singapore. For more information: www.yubico.com.