Last night at the European Identity & Cloud Conference 2016 (EIC) Awards Ceremony, Yubico and Digidentity's submission for "Best Innovation in eGovernment/eCitizen" was awarded to the GOV.UK Verify project! The award was accepted by Adam Cooper, Identity Assurance Programme, Government Digital Service for GOV.UK Verify.
Beginning in April 2016, GOV.UK Verify began offering beta support for the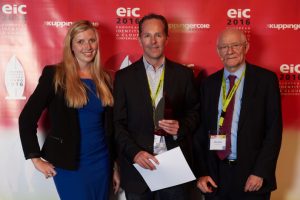 YubiKey and the FIDO Universal 2nd Factor (U2F) protocol, through Yubico partner Digidentity, one of the original identity providers (IdP) for GOV.UK Verify. Set to launch this month, this is the first government service in the world to make support for a FIDO authenticator based on open standards.
To authenticate to GOV.UK Verify using Digidentity with FIDO U2F, the user inserts a U2F certified YubiKey into the computer's USB port, and then touches the device. There are no drivers or client software to install. Furthermore, the same U2F YubiKey that works with GOV.UK Verify and Digidentity also works for logging into a growing number of large scale commercial services, including Google, Dropbox, and Dashlane, without any personal data or encryption secrets shared between service providers.
Yubico's partnership and interoperability with identity provider Digidentity and support for GOV.UK Verify is another example of how Yubico helps secure online identities, and how Yubico innovates to make those identities easier to use and available to everyone.
We thank EIC and conference host KuppingerCole for this recognition and look forward to next year's conference!