PALO ALTO, CA, April. 21, 2015 – Yubico, the leading provider of simple and open online identity protection, today announced that Yubico U2F-compliant authentication devices – U2F Security Key, YubiKey NEO and YubiKey Edge – are immediately available to provide strong, two-factor authentication to Google Drive for Work.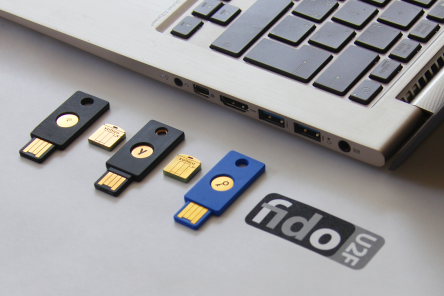 Earlier today, Google announced on its blog new Google Drive for Work Admin console  features for enterprises seeking managed two-factor authentication with Security Keys. This is a powerful evolution of the enterprise value of Yubico's lineup of FIDO-compliant keys, and the emerging scalable, open authentication FIDO U2F standard.
"When U2F functionality in Chrome launched last October, the security and value of 2FA for all became clear," said Stina Ehrensvard, CEO and founder, Yubico, Inc. "With this announcement, end-users can now bring their own hardened, Yubico U2F-compliant keys directly to the enterprise without their organization ever having to collect and store the user's secrets."
With new administrative features, Google Drive for Work admins will be able to easily deploy, monitor and manage U2F Security Key, YubiKey NEO and YubiKey Edge at scale with controls in the Admin console with no additional software to install.  IT admins will see where and when employees last used their keys with usage tracking and reports.
If Security Keys are lost, admins will easily revoke access to those keys and provide backup codes so employees can still sign in and get work done. It's simple for Google Apps admins to deploy by setting an enforcement date in the future and gradually getting all employees to adopt it.
Once deployed, all it takes for a user to authenticate is to touch  the key after it has been inserted into a USB port. Each Yubico U2F-compliant key has a secure element which performs cryptographic functions triggered by the touch of the key. These are not biometric devices, instead they uses a capacitive sensor activated by the small amount of electricity the human body naturally produces.
FIDO U2F Security Key, YubiKey NEO and the recently launched YubiKey Edge are available immediately. For more information and to see U2F in action, please visit Yubico
About Yubico
Yubico sets new global standards for simple and secure access to computers, mobile devices, servers, and internet accounts.
The company's core invention, the YubiKey, delivers strong hardware protection, with a simple touch, across any number of IT systems and online services. The YubiHSM, Yubico's ultra-portable hardware security module, protects sensitive data stored in servers.
Yubico is a leading contributor to the FIDO2, WebAuthn, and FIDO Universal 2nd Factor open authentication standards, and the company's technology is deployed and loved by 9 of the top 10 internet brands and by millions of users in 160 countries.
Founded in 2007, Yubico is privately held, with offices in Sweden, UK, Germany, USA, Australia, and Singapore. For more information: www.yubico.com.