PALO ALTO, CA, JAN. 5, 2017 – Yubico, the leading provider of simple and open online identity protection, today unveiled the YubiKey 4C, the world's first multi-protocol USB-C authentication device. Yubico will demonstrate the new YubiKey USB-C form factor at booth A-1 at ShowStoppers @ CES (Consumer Electronics Show) on Thursday, January 5, 2017, 6-10 PM, at the Wynn Las Vegas.
Yubico will preview the YubiKey 4C form factor at ShowStoppers @ CES, and make it available in the Yubico store for $50 beginning February 13, 2017. Built on the proven foundation of the YubiKey 4, the YubiKey 4C supports multiple protocols including Yubico OTP, OATH, FIDO Universal 2nd Factor (U2F), and OpenPGP and PIV smart card functions supporting up to RSA 4096 and up to RSA 2048 or ECC P384 keys, respectively. This lineup of functionality is contained in a new keychain design for laptops, such as the MacBook Pro, which rely solely on USB-C ports.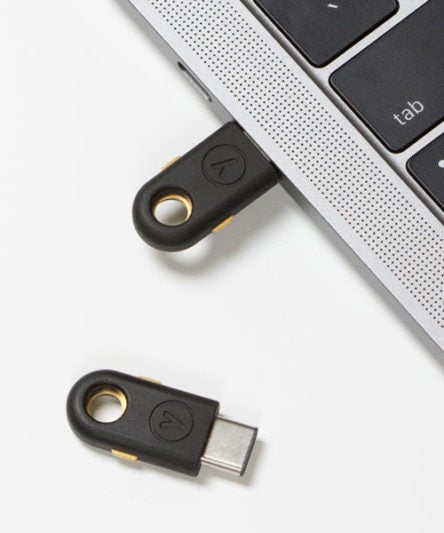 Consumers and enterprises alike want their identities, accounts, and data to be safe online. Unfortunately, traditional usernames and passwords aren't secure enough to provide protection. Two-factor authentication with the YubiKey is the easiest and most secure way to protect your online identity, requiring nothing more than a simple tap or touch to authenticate into accounts.
The YubiKey 4C secures access to a wide range of consumer and enterprise applications, including U2F strong authentication (Google, Dropbox, GitHub, Salesforce, etc.), password managers (LastPass, Dashlane, etc.), Windows login including Windows Hello, remote access, VPN, and much more. The YubiKey works on Microsoft Windows, Mac, Linux, and on major browsers without the need for extra software or drivers.
Additionally on January 5th, at the CES Cybersecurity Forum 2017, Yubico's CEO and Founder, Stina Ehrensvard, is featured as part of a panel discussion 'Battening Down the Hatches: Data and Devices.' The panel begins at 9:15 AM in room Lando 4301 on Level 4 of The Venetian Las Vegas.
"We strive to innovate while maintaining the highest level of authentication and security standards expected in a YubiKey," said Ehrensvard. "We have listened to our customer requests for a USB-C form factor and are proud of this upcoming YubiKey 4C device for both consumers and enterprises."
Yubico is working on an additional, smaller YubiKey form factor with a USB-C design akin to the YubiKey 4 Nano, but does not yet have a time frame for availability. For more information, please visit www.yubico.com.
Yubico sets new global standards for simple and secure access to computers, mobile devices, servers, and internet accounts.
The company's core invention, the YubiKey, delivers strong hardware protection, with a simple touch, across any number of IT systems and online services. The YubiHSM, Yubico's ultra-portable hardware security module, protects sensitive data stored in servers.
Yubico is a leading contributor to the FIDO2, WebAuthn, and FIDO Universal 2nd Factor open authentication standards, and the company's technology is deployed and loved by 9 of the top 10 internet brands and by millions of users in 160 countries.
Founded in 2007, Yubico is privately held, with offices in Sweden, UK, Germany, USA, Australia, and Singapore. For more information: www.yubico.com.