PALO ALTO, CA, OCT. 21, 2014 – Yubico, the leading provider of simple, open online identity protection, today introduced the FIDO U2F Security Key, a new  secure two-factor authentication device designed to allow users to instantly login to U2F supported online services.
Earlier today, Google announced on its blog an extra layer of security for Google Accounts based on FIDO U2F support added to the Chrome browser, the first public deployment of FIDO U2F protocols and a major step in increasing Internet security.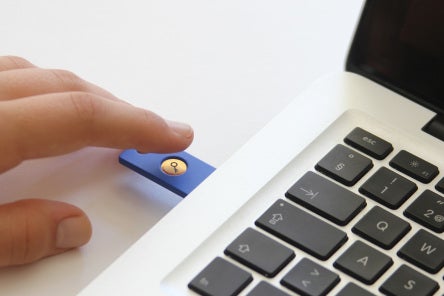 Starting today, the Security Key by Yubico with its FIDO U2F support lets users securely login to Google Accounts and any number of service providers who have or will adopt the FIDO U2F protocol.  FIDO U2F is an emerging open authentication standards initiative with strong support from more than 120 end-user and vendor companies in the FIDO Alliance.
"This news can't be overstated for anyone who desires better protection against hackers; whether consumers, security professionals, Internet privacy advocates, or the millions of global YubiKey users who appreciate its 'one touch' strong authentication and ease-of-use," said Stina Ehrensvard, CEO and Founder, Yubico, Inc. "Having a leading Internet browser adopt FIDO U2F signals the arrival of new and stronger options for authentication and security."
The new FIDO U2F Security Key is a specially designed YubiKey that relies on high-security, public-key cryptography. Durable, conveniently sized, and blue in color, all it takes to authenticate is to touch the button on the key after it has been inserted into a USB port. With the FIDO U2F Security Key, there are no drivers, no client software, no middleware, and no traditional and costly certificate authority (CA) model.
"What we are witnessing today is the first public and global deployment of FIDO U2F standards and real technologies that are supporting them," said Michael Barrett, president, FIDO Alliance.  "With FIDO U2F, one single device can be used with any number of online services with no user information or encryption keys shared between the service providers, thus fulfilling our promise of strong, easy to use authentication."
Each FIDO U2F Security Key has a secure element, powered by NXP, which performs cryptographic functions triggered by a simple touch of the key. This isn't a biometric device, instead it uses a capacitive sensor activated by the small amount of electricity the human body naturally produces.
Once touched, the FIDO U2F Security Key provides a unique public and private key pair for each application it protects. Only those keys can correctly complete the cryptographic challenge required for authentication and a successful login.
Last week, Yubico introduced updated YubiKey NEO and NEO-n, with FIDO U2F support. The YubiKey NEO and NEO-n work across Windows, Mac, Linux, major browsers and mobile platforms supporting NFC (NDEF type 4). The NEO and NEO-n are compatible with any USB port and will support the same FIDO U2F platforms as the FIDO U2F Security Key.
FIDO U2F Security Keys are available immediately. For more information please visit FIDO Alliance.
About Yubico
Yubico sets new global standards for simple and secure access to computers, mobile devices, servers, and internet accounts.
The company's core invention, the YubiKey, delivers strong hardware protection, with a simple touch, across any number of IT systems and online services. The YubiHSM, Yubico's ultra-portable hardware security module, protects sensitive data stored in servers.
Yubico is a leading contributor to the FIDO2, WebAuthn, and FIDO Universal 2nd Factor open authentication standards, and the company's technology is deployed and loved by 9 of the top 10 internet brands and by millions of users in 160 countries.
Founded in 2007, Yubico is privately held, with offices in Sweden, UK, Germany, USA, Australia, and Singapore. For more information: www.yubico.com.