PALO ALTO, CA, June 6, 2016 – Yubico, the leading provider of simple and open online identity protection, today announced the company's participation and activities at the Cloud Identity Summit (CIS), June 6-9 in New Orleans, LA. Yubico will be delivering multiple presentations and demonstrating YubiKey partner integrations and FIDO U2F authentication at Booth #23.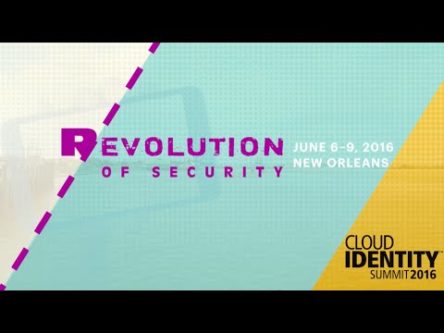 Highlighting the multiple protocol support of the YubiKey, Yubico will be showing YubiKey OTP integration with PingID, the multi-factor authentication engine within Ping Identity's flagship cloud identity service, PingOne.
Additionally, Yubico will be demonstrating the simplicity of U2F authentication across Google, Dropbox, GitHub, and the newest U2F integration with award-winning password manager Dashlane. With U2F, individuals are able to use the same YubiKey across multiple services, with zero shared secrets and no drivers or client software to install.
Speaking Sessions
● Yubico will participate in the FIDO Alliance Summit, Monday June 6, 9:00 a.m. This FIDO Alliance summit will give attendees an in-depth feel for how FIDO streamlines the strong authentication process while also protecting user privacy – and will also touch on key policy, products, and deployment updates.
● Yubico's VP of Solutions Engineering, Jerrod Chong, will present in the Identity Standards session 'FIDO Recipe for Strong Authentication' on Monday, June 6, at 4:50 p.m. The session will dig deep into the FIDO Alliance's promise of simpler, stronger authentication, and review FIDO's solid foundational underpinnings with examine use cases and scenarios. The session will also feature the success of large FIDO deployments and look into the future directions of FIDO.
● Yubico's CEO and Founder, Stina Ehrensvard, will deliver a talk entitled 'From static to mobile: Evolutions in Authentication' on Thursday, June 9, at 9:30 am. The session illustrates how the password is now the weakest security construct known to networking. Modern and multi-factor authentication is aiming to change that. The landscape now includes OTPs, USB tokens, and biometrics. Enter mobile devices and wearables, and authentication options further evolve. Attendees will hear the pros and cons of modern authentication, and learn today's best pairings of authentication type and use case for consumers and enterprises.
At CIS, find the Yubico team and see live demonstrations at Booth #23. For more information and to learn more about YubiKeys and FIDO U2F, please visit www.yubico.com.
About Yubico
Yubico sets new global standards for simple and secure access to computers, mobile devices, servers, and internet accounts.
The company's core invention, the YubiKey, delivers strong hardware protection, with a simple touch, across any number of IT systems and online services. The YubiHSM, Yubico's ultra-portable hardware security module, protects sensitive data stored in servers.
Yubico is a leading contributor to the FIDO2, WebAuthn, and FIDO Universal 2nd Factor open authentication standards, and the company's technology is deployed and loved by 9 of the top 10 internet brands and by millions of users in 160 countries.
Founded in 2007, Yubico is privately held, with offices in Sweden, UK, Germany, USA, Australia, and Singapore. For more information: www.yubico.com.