PALO ALTO, CA, FEB. 29, 2016 – Yubico, the leading provider of simple and open online identity protection, today announced that the company will be showcasing several new YubiKey partner integrations and demonstrating FIDO U2F-certified NFC-enabled authentication.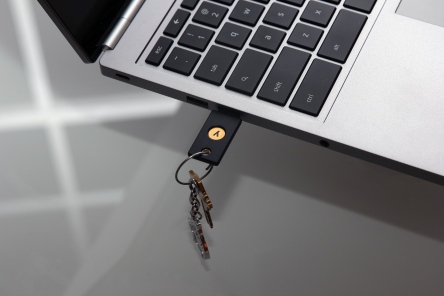 Yubico will be exhibiting February 29-March 3 in the Moscone Center North, booth #N4909. 
"Evolution and innovation around authentication and security is happening in three core areas: mobile, standards, and hardware crypto," said Stina Ehrensvard, CEO and Founder, Yubico. "Together with our partners, we are building a Swiss Army Knife of authentication and cryptographic functions. Today, Dashlane becomes the first non-browser based application to adopt U2F and Centrify is eliminating passwords and adding mobile authentication options for secure access to apps, servers, and other resources."

Dashlane FIDO U2F YubiKey Support
Dashlane, an award-winning password manager, has integrated YubiKey U2F two-factor authentication into the Dashlane platform. Support for the FIDO U2F standard and the YubiKey means consumers and enterprises can pair Dashlane with YubiKeys for the highest level of security and convenience.  
Dashlane has joined internet leaders Google, Dropbox, and GitHub to support U2F, meaning individuals can use the same YubiKey across these platforms, with zero secrets shared across services.  When combined with YubiKey and U2F, Dashlane provides a simple way to secure passwords that is unrivaled in the industry.
"Dashlane has taken a strong position on security by supporting U2F and YubiKey," said Emmanuel Schalit, CEO, Dashlane. "Cyber-attacks and hacking are an unfortunate reality of the world we live in, and the fear of being hacked is on everyone's mind. Dashlane is proud to be part of such a groundbreaking and innovative endeavor to pioneer easy-to-use technology that protects consumers and enterprises alike."
Centrify Identity Service + YubiKeys
Centrify, a leader in securing enterprise identities against cyberthreats, and Yubico are now delivering a frictionless security solution that eliminates passwords, bolsters security, and provides secure access to apps, devices, and IT resources.
A login can be as simple as plugging the YubiKey into your device and typing a PIN (smartcard login), to gain access to a secure cloud application. In other cases, users may make use of NFC (Near Field Communication) by merely tapping the YubiKey against their mobile device for quick and easy authentication to apps, servers, and more.  Enrollment is streamlined, and policy is created simply and enforced across all business users.
"With password theft rampant, and headline-level breaches a near-daily event, multi-factor authentication has become critical for every business," said Ben Rice, VP, Worldwide Business Development, Centrify Corporation. "Together, Centrify and Yubico are providing IT the flexibility to enforce security without user frustration."
Mobile U2F via NFC 
The YubiKey NEO is the first device certified for U2F mobile authentication over NFC.  At the RSA Conference, Yubico will demonstrate how a single YubiKey NEO securely authenticates to online services via a USB token and a U2F-supported mobile login, with a simple tap of the YubiKey to an NFC-enabled mobile device.
About Yubico
Yubico sets new global standards for simple and secure access to computers, mobile devices, servers, and internet accounts.
The company's core invention, the YubiKey, delivers strong hardware protection, with a simple touch, across any number of IT systems and online services. The YubiHSM, Yubico's ultra-portable hardware security module, protects sensitive data stored in servers.
Yubico is a leading contributor to the FIDO2, WebAuthn, and FIDO Universal 2nd Factor open authentication standards, and the company's technology is deployed and loved by 9 of the top 10 internet brands and by millions of users in 160 countries.
Founded in 2007, Yubico is privately held, with offices in Sweden, UK, Germany, USA, Australia, and Singapore. For more information: www.yubico.com.