PALO ALTO, CA, August 4, 2015 – Yubico, the leading provider of simple and open online identity protection, today announced the company's participation and activities at Black Hat, August 5-6 in Las Vegas, NV.   Yubico will be demonstrating FIDO Certified™ U2F authentication – YubiKey NEO, YubiKey Edge and U2F Security Key, wireless U2F – and new partner integrations throughout Black Hat at Booth #964.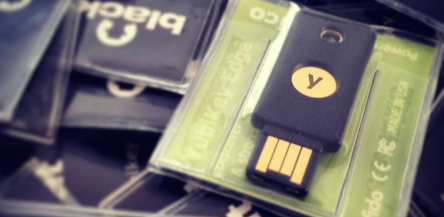 Yubico is a co-creator of FIDO U2F (Universal 2nd Factor), a new open authentication standard that protects against phishing and man-in-the middle attacks. The technology enables YubiKeys and other user-owned devices to securely access any number of online services, with a simple touch, and with no client software needed.
In addition, the U2F protocol passed a significant milestone in June, adding new transport protocols, NFC and Bluetooth, for securing access from mobile devices.  The YubiKey NEO is the first product on the market supporting the U2F NFC specification.
YubiKeys offer a wide range of strong authentication options including one-time password (OTP), FIDO U2F, PIV support and more.  At Black Hat, Yubico will be demonstrating how a single YubiKey can authenticate via multiple protocols.
At Black Hat, find the Yubico team and see live demonstrations at Booth #964, including:
YubiKey U2F login to Google accounts and recent added support for Google for Work.
NFC wireless U2F login to mobile devices.
OTP login to Salesforce, PingOne, and Duo.
PIV login to computers and servers.
For more information and to learn more about YubiKeys and FIDO U2F, please visit www.yubico.com.
About Yubico
Yubico sets new global standards for simple and secure access to computers, mobile devices, servers, and internet accounts.
The company's core invention, the YubiKey, delivers strong hardware protection, with a simple touch, across any number of IT systems and online services. The YubiHSM, Yubico's ultra-portable hardware security module, protects sensitive data stored in servers.
Yubico is a leading contributor to the FIDO2, WebAuthn, and FIDO Universal 2nd Factor open authentication standards, and the company's technology is deployed and loved by 9 of the top 10 internet brands and by millions of users in 160 countries.
Founded in 2007, Yubico is privately held, with offices in Sweden, UK, Germany, USA, Australia, and Singapore. For more information: www.yubico.com.