We're just a couple months into 2020 and Yubico has already had the honor of receiving award recognition from several leading organizations for our efforts in developing innovative solutions that address some of today's most pressing security challenges.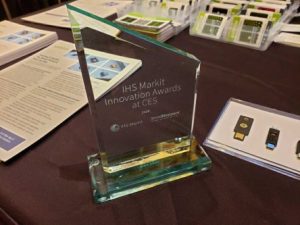 At CES 2020, Yubico was presented with the Innovation Award for Mobile Accessories by IHS Markit for our industry-pioneering YubiKey authentication technologies supporting NFC (near-field communication), USB-C, and Lightning mobile connections.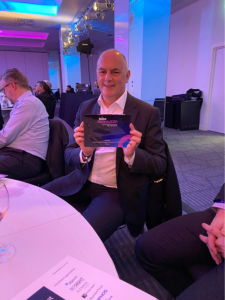 At a ceremony in Stockholm in early February, Yubico's CEO and Co-founder, Stina Ehrensvärd, was awarded 'Business Game Changer of the Year' by top Swedish businesses for Yubico's standards work and the company's vision and execution to modernize hardware authentication. To quote the panel of judges, "The winner has infused courage in its own organisation to contribute to a solution for one the biggest problems in our modern society; stolen login credentials. In close collaboration with the tech giants, her company has developed a new global internet security standard for securing access to online services for millions of people around the world."
On February 12, at The European Information Security Summit (TEISS), Yubico and the YubiKey brought home the Most Innovative Product or Service of the year award. And most recently, heading into RSAC 2020, Yubico was again honored to be included in several award nominations for both our company and executives.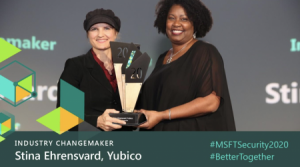 At the first-ever Microsoft Security 20/20 event this past Sunday evening, Yubico was awarded 'Identity Trailblazer', and Stina took home recognition as 'Industry Changemaker' for demonstrating excellence in innovation, integration, and customer implementation with Microsoft technology. These honors, presented by Microsoft, speak directly to the strong collaboration between our companies, and our joint efforts to replace weak passwords with strong, cryptographic passwordless authentication.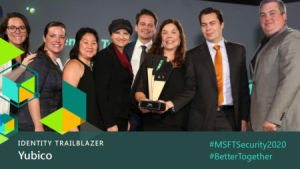 "Solving our mutual customers' security challenges is very much a team sport," said Andrew Conway, General Manager, Security Product Marketing, Microsoft Corp. "We are pleased to recognize these leaders in the ecosystem at Microsoft's inaugural security awards."
We truly thank our fans and users who have been with us on this awesome journey. This industry recognition would not be possible if it wasn't for the tireless work from every Yubico employee, and our amazing customers and supporters.