Yubico is proud to announce that our CEO and Founder, Stina Ehrensvärd, has been named the winner of the 2016 KTH Royal Institute of Technology Great Prize.  Founded in 1827, KTH is Sweden's first polytechnic university and is one of Scandinavia's largest institutions of higher education in technology.
First awarded in 1945, the annual KTH Great Prize was founded and funded from the proceeds of a 1944 anonymous donation.
According to the sponsor of the award, the prize shall be presented to, "A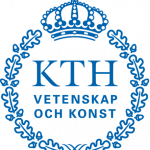 person who, through epoch-making discoveries and the creation of new values and by ingenious applications of findings gained on the practical aspects of life, promotes Sweden's continued material progress, or a person who by means of scientific research has discovered particularly valuable principles or methods which are useful for applications, which promote the above purpose, or a person who through artistic activities 'exerts a powerful influence particularly on the spiritual life of her own people."
"Stina Ehrensvärd is a very worthy recipient of the KTH Great Prize," said Peter Gudmundson, President of KTH "A combination of innovation and entrepreneurship is key to meeting society's challenges, for both Stina and for KTH. IT security is absolutely critical in our digitized world, and this is why Stina's effort is significant."
Stina is extremely honored and happily surprised by this honor, but stresses that credit for Yubico's success is not hers alone. "It would not have been possible without my great team at Yubico. And a special thanks to Jakob Ehrensvärd, the company's CTO, and my husband, whom I would have liked to share this prize with. It has been said that behind every successful man stands a strong woman. In our case it is the opposite, and it's Jakob who developed most of the technology."
When asked to give advice to the next generation of innovators, Stina said, "Inspiration and hard work are the secret. Find a solution to a real problem. If it makes you so happy that the idea of devoting several years to implement this solution, product or service makes it hard for you to sit still, then you're probably on the right track. Surround yourself with a really good team that complements you. Think big. Listen to your gut."
Stina says that joining a list of KTH Grand Prize honorees is exciting and a little unreal.  Previous winners include: Niklas Zennström, Co-founder of Skype; Daniel Ek, founder of Spotify; Robyn, pop singer and producer; Jan Uddenfeldt, contributor to the GSM standard; Gunilla Pontén, fashion designer; and Assar Gabrielsson, Co-founder of Volvo.
Click to view the full list of KTH Great Prize winners.