As more organizations undergo digital transformation initiatives, identity and access management (IAM) is becoming more critical than ever before. IAM sits at the heart of every business, which is why Yubico is excited to announce a new partnership this week at Gartner IAM Summit with one of the longest standing IAM vendors on the market: RSA.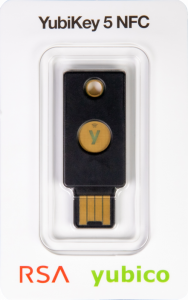 Today, we expand our partnership with RSA with the upcoming availability of YubiKey for RSA SecurID® Access, a joint solution that offers enterprises a new path to modern FIDO-based authentication.
This partnership will enable current and future RSA customers to purchase an enterprise-grade identity assurance platform and a range of authentication solutions — including YubiKey for RSA SecurID® Access — all from the same vendor, RSA. RSA customers will enjoy a consistent user experience without having to engage multiple vendors to solve their identity management and authentication challenges.
RSA has more than 25 years of experience in securing and managing complex enterprise IT environments and applications, and Yubico is the pioneer of secure and easy-to-use YubiKey hardware-based authentication. Together, our combined technologies solve the need to secure enterprises and their customers in a scalable way, all while delivering a frictionless user experience.
"The benefits of bringing RSA and Yubico together are so apparent that customers were engaging both companies prior to the partnership," said Jim Ducharme, VP Products, RSA Identity and Fraud & Risk Intelligence. "Together, we will combine the secure, robust identity assurance of RSA SecurID® Access with the convenient access and FIDO2 features of the YubiKey. The strategic partnership helps enterprises address the evolving threats and challenges faced by today's dynamic workforce, from ground to cloud."
The initial YubiKey for RSA SecurID® Access offering will have the same form factor as the YubiKey 5 NFC, and is expected to be available for RSA customers in March 2020. Additional form factors are also expected to become available later in the year.
"Our partnership with RSA demonstrates a shared commitment to protect millions of users from security breaches," said Jerrod Chong, Chief Solutions Officer, Yubico. "This collaborative effort combines RSA's long-standing expertise in identity and access management, with Yubico's proven leadership in standards and innovation, to bring forward a unified FIDO-based hardware authentication solution for enterprises, their partners and their customers."
As we approach a new year, Yubico looks forward to engaging our strong ecosystem of partners to continue driving value for our users in innovative ways. The better the customer experiences that we can deliver together, the closer we get to securing millions worldwide.
For enterprises interested in receiving more information on the YubiKey for RSA SecurID® Access, please visit: rsa.com/start.