Yesterday, I had the honor to receive a special medal from His Majesty the King of Sweden, Carl XVI Gustaf, at the Royal Palace, for significant business contributions in Sweden. It's an equally great honor to represent the now 400 person team who helped me build this company, fueled by our mission of making the internet safer for all. The King's Medal of the 8th size in the ribbon of the Order of Seraphim, is awarded to Swedish and foreign citizens for special merits.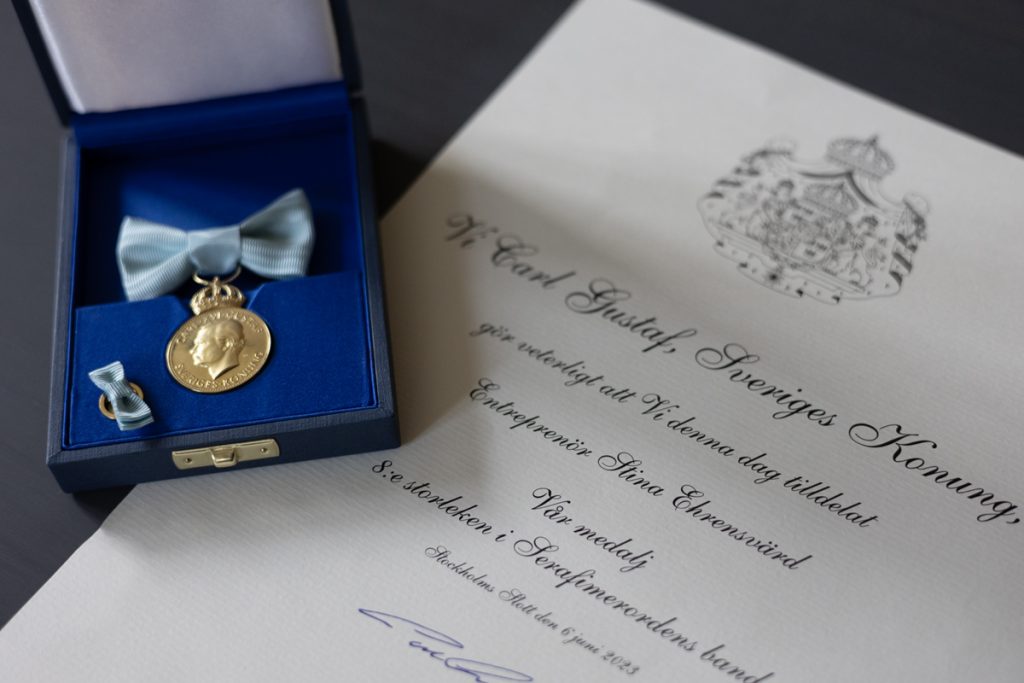 Being born in the US to Swedish parents, I have citizenship in both the US and Sweden. The Nordic country is significantly smaller in comparison, with roughly 10 million citizens. It's progressive and more digitally advanced than most countries, with 95% of all Swedes connected to the internet, and more global technical innovations per capita than any other country. A decade ago, Sweden scored relatively high in cyber security defense, however, today it is falling behind.
This blend of high internet connectivity and weak cybersecurity defenses is a growing concern, especially as Sweden is seeing an increasing number of targeted attacks. The single biggest cybersecurity threat vector in Sweden and around the world is stolen and misused login credentials.

At Yubico, we are committed to making a positive impact on the world and we have been invited to help shape new European cyber identity and authentication systems and directives. The last couple of months, I have been in contact with European government officials, universities and leading banks. After paving the way for FIDO, passkeys and phishing-resistant authentication standards –all of which are proven to protect vital technology and government infrastructure in the US – I am excited to now be actively engaged in the cyber defense of my other home country.

Our commitment to help protect Sweden from foreign attackers goes back roughly 250 years ago. In 1748 a security architect was assigned by the King of Sweden to design Suomenlinna (Sveaborg), one of the most innovative sea fortresses of its time. His name was Augustin Ehrensvärd, and the security solution he contributed to was a massive building with thick stone walls and iron canons. In 1771, the King ennobled Ehrensvärd for his service to the country and in 1991 Suomenlinna was named a UNESCO World Heritage.
Adolf Fredrik, the same King that ennobled Ehrensvärd, wrote the world's first law supporting freedom of the press and information in 1766. The groundbreaking law also included the right for all Swedish citizens to have access to government publications, the 'principle of publicity', which later became the cornerstone for Sweden's long standing democracy. In direct lineage with Augustin, my husband Jakob, Yubico co-founder and Chief Innovation Officer, inherited the name Ehrensvärd, which means 'sword of honor'.
Today, in 2023, we are experiencing a war in Europe in both the digital and physical world. We, the Ehrensvärds – and the extended Yubico family – have once again been honored for protecting people who value press freedom and democracy. However, this time it is not a fortress for the sea or land, but for our modern digital world.