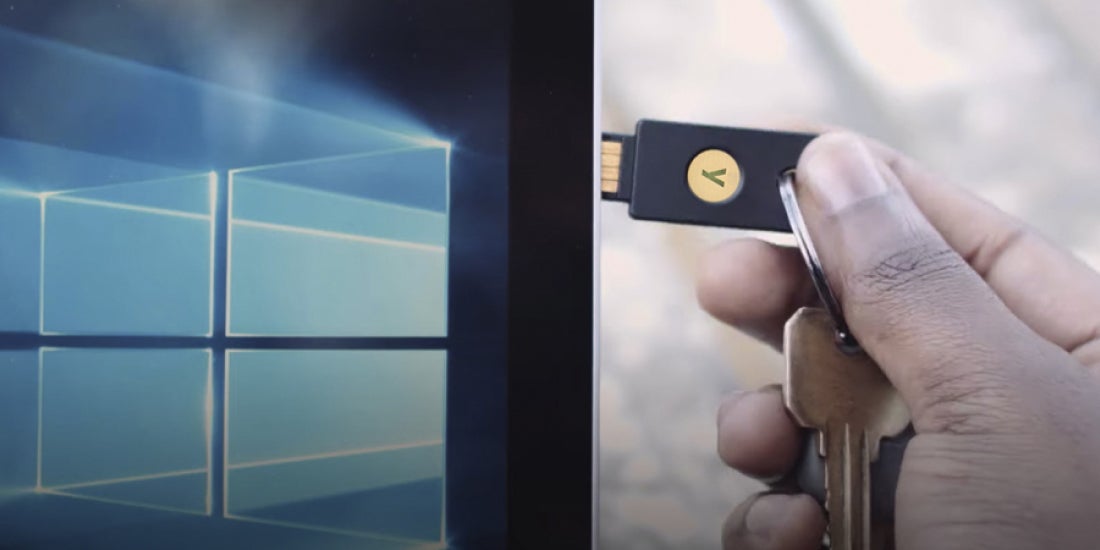 With Windows 10, Microsoft is introducing its most complete authentication platform ever. The Anniversary Edition of the operating system includes expanded user verification options, standards-based authentication, and diverse management controls grouped under the name Windows Hello. YubiKey now works with this ecosystem.
Microsoft is spreading Windows Hello to enterprises and consumers, and across its platforms including desktops, mobile devices, Active Directory, Azure AD (which lives in the cloud), and independent cloud service providers that support modern FIDO Alliance protocols. The list of authentication methods include built-in biometrics, external companion devices, and smart cards/PKI.
This expanded list of authentication possibilities lands right in Yubico's wheelhouse. YubiKey and its support for multiple protocols helps usher in the era of FIDO for Windows.
In Windows 10 language, Microsoft will support both key-based and certificate-based authentication. Key-based authentications are equal to the FIDO model of public key cryptography; while certificate-based authentication relates to smart cards and PKI. Enterprises that don't use PKI, or want to minimize reliance on certificates, are prime converts for key-based Windows 10 authentication credentials. With a design focused on ease-of-use, it's a natural place for end users to finally duck behind the protection of strong authentication.
The YubiKey is a versatile authentication device that is built for this environment. Our strategy around strong authentication includes supporting many standards-based authentication protocols for host-based and cloud-based services. Today, users of services such as Google, Dropbox, and GitHub have access to FIDO-based strong authentication with the YubiKey.
Initially, we have built a simple, single-function app called YubiKey for Windows Hello, which is now one of many options in Windows 10 for unlocking a computer. The app, built on the Windows Companion Device Framework, is available now in the Windows Store. To learn more about YubiKey for Windows Hello and see it in action, watch our video (below). Microsoft introduced Yubico's app today during its annual Windows Ignite conference.
The Windows Hello platform will create many options, and Yubico will be ready to support them with a simple touch of the YubiKey.